Ecommerce whizz Jeremy Fennell will transfer his skills within Dixons Carphone as he steps up to become the boss of the mobile business.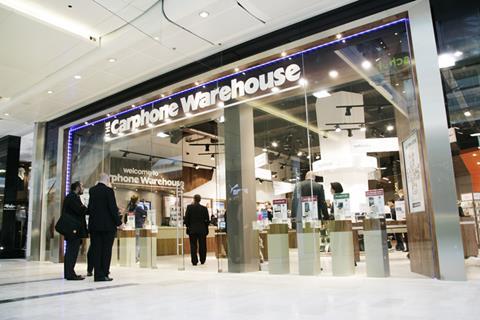 "Wait a minute. I've just got to show my passport," says Carphone Warehouse's Jeremy Fennell as he waits in line to board a plane to Oslo.
He might have been named the retailer's new managing director but he's still got a few loose ends to tie up in Dixons Carphone's Nordic region before he takes the reins at the group's head office in Acton, London on Friday.
Replacing chief executive Graham Stapleton, who has been promoted to executive chairman of Dixons Carphone's new US venture Sprint Connect, the former ecommerce director will lead the retailer to "develop its customer offer" but will continue to lead the travel business and Harrods concession for Dixons Carphone.
As Fennell settles into his first managing director role, Stapleton will work alongside him over the next six months to ensure a smooth handover.
"I'm fortunate that there's a good period of transition between me and Graham, with him introducing me to the business model and how it works. I'm lucky in that respect. Fortunately over the last 12 months I've manged to work with people on both sides of the business."
But Fennell, 39, is confident of what he's tasked to do. "I've been at Dixons for quite a while and moved around different parts of the business, hopefully I've got a good track record of learning new business."
Retail career
Fennell's retail life began at 15 when he was working after school on the shopfloor at Currys in Banbury. "That's when I got a buzz for retail," says the affable Fennell.
After his O-levels, he faced a tough decision of either continuing his studies or working his way up the retail ladder, an option chosen by many of the industry's leaders.
"I was educated by people with retail experience. I learn best from people and their stories"

Jeremy Fennell, Carphone Warehouse
"I was lucky enough to be able to do a vocational retail degree at Bournemouth, which suited my way of working. I was educated by people with retail experience. I learn best from people and their stories. I love hearing about the work people have done."
After completing his four-year degree, Fennell joined Dixons, then known as DSG International, as senior product manager in 1998.
After two years in the role, he moved to Psion Computers, a manufacturer of handheld computer devices, as UK marketing manager, a role he stayed in for just a year before rejoining the Dixons fold.
He came back on board as marketing manager before moving onto a less UK-centric role as purchasing manager of central Europe at ElectroWorld, DSG's specialist electrials retail chain with stores across Czech Republic and Slovakia, gaining experience of other countries.
Fennell gained a taste for working in other markets, and was soon promoted to Nordic purchasing director of Elkjop Nordic, the firm's Nordic and central European business. That overseas experience helped him move up the ladder to international buying director.
Ecommerce achievement
Fennell says his biggest achievement to date is making the ecommerce team a fundamental part of the business.
"We've seen tremendous growth from sales from the website to the point a quarter of transactions are made online and 50% of ecommerce sales are collected in-store. Beyond sales numbers, ecommerce has become a core part of the business. Colleagues are using the website as part of the sales journey. I'm proud of what the team has done."
With ecommerce becoming a more critical part of retailers' strategies, will we see more ecommerce and multichannel directors thrust into the driving seat, becoming leaders of businesses?
"In my old role we used to ask what will become of the ecommerce director. As time goes on and the more multichannel and ecommerce-led retailers become, it becomes the responsibility of everyone in the organisation to become multichannel; you can't rely on one person and one team.
"Everybody has to take responsibility. Once you've got good knowledge of it, it's a great set up to moving into others areas [of the business] or managing director."
Fennell quickly became one of the best ecommerce directors in the game, often appearing in the Retail Week Etail Power List.
In the most recent edition, published in October, he was the highest riser, moving from 44 in 2013 to 22 in 2014. In his role he was focused on educating the business about the importance of ecommerce and ensuring the correct processes were in place to make the company a strong multichannel player.
Dixons Carphone merger
Of course, part of the reason his influence in the online retail world became more significant was because of the Dixons Retail and Carphone Warehouse merger last year.
Soon after, the newly formed Dixons Carphone started making noise about the internt of things and talked of the opportunities around creating a strong click-and-collect presence across the two retailers' estate.
Outside of work, Fennell is a keen sports fan – he's a bit of a cricketer (his dream job would be playing for England) and regularly dons his whites for Little Gaddesden Cricket Club in Hertfordshire. "I spend most of the summer on a cricket pitch and also watching cricket every week."
He also likes to compete in triathlons and in winter he swaps his bats for skies.
He recently returned from a spot of diving in Sardinia. And with all that talk of holidays, Fennell jets off to Oslo, ready for a new mobile adventure.
CV
July 2015 to present Managing director, Carphone Warehouse
2011 to July 2015 Ecommerce director, Dixons Retail
2007 to 2011 International buying director, DSG International
2005 to 2007 Nordic purchasing director, Elkjop Nordic (DSGi)
2004 to 2005 Purchasing manager, Central Europe, ElectroWorld (DSGi)
2001 to 2004 Marketing manager, PC World
2000 to 2001 UK marketing manager, Psion Computers
1998 to 2000 Senior product manager, DSG International