A shift in pricing strategy, seen in stores and marketing, suggests Wesfarmers has begun the process of transforming Homebase into Bunnings.
Earlier this year, Wesfarmers exploded onto the UK retail market by snapping up Homebase. The Australian group shortly after revealed radical plans to rebrand the DIY retailer to Bunnings – the biggest home improvement retailer Down Under.
The Australian conglomerate acquired Homebase in January from Home Retail Group in a deal worth £340m. It quickly rocked the boat by axing the entire Homebase board to bring in its own directors and by cutting nearly 20% of Homebase head-office staff in a bid to "streamline support functions".
It also revealed plans to exit the homewares and soft furnishings categories in order to play to its strengths: home improvement and trade.
The retailer has taken a punt on the UK DIY market, spying an opportunity to recreate Bunnings' Australian success here on chillier UK terrain, and appears undeterred by the strength of UK market leader B&Q, whom it is going head-to-head with.
Four months after the completion of the sale, there is evidence in stores and in marketing campaigns to suggest that Homebase's strategy is beginning to shift closer to that of Bunnings in Australia.
More stock
Evidence of transformation in Homebase stores includes a noticeable influx of stock, as observed at the Homebase branch in Weir Road.
Traditionally clean Homebase shelves are now stacked high with products, with stock piled on the floor in some instances and even filling the aisles.
Bunnings' 324-unit estate includes small inner-city shops, but its signature store remains its mega sheds. On average, it carries a huge range of 45,000 products.

The relatively modest size of many Homebase units could therefore present a challenge for its new owner and raises questions about how Bunnings plans to make space for its stock.
Bunnings' average SKU count is similar to that of B&Q. The UK market leader currently stocks up to 45,000 products in an average store, but it is looking to cut this down, realigning its business away from big sheds towards a multichannel approach in the UK.
Lower price point
With Homebase moving away from its family-orientated, aspirational marketing strategy, the retailer has begun to promote a new lower price point.
Its campaign strapline now reads "Low prices every day", suggesting that new managing director Peter Davis has kick-started a strategy focused on value.
The campaign closely resembles Bunnings' marketing strategy in Australia, where the DIY chain's adverts read "Lowest prices are just the beginning".
And it looks like the retailer is holding true to its promise, too, making significant price cuts in stores.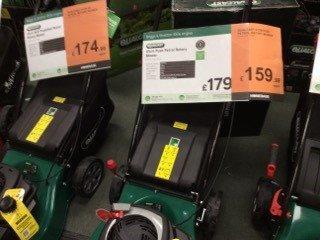 The way price is communicated is also changing. Similar to Bunnings' approach in Australia, large orange price labels have been affixed haphazardly to items of stock.
When asked about the proliferation of neon stickers, a store executive said, "It's just the way we communicate price now."
These price cuts and its new value message puts it squarely in the firing line of B&Q, which regards itself as the best value DIY retailer in the UK.
Earlier weekend opening
Homebase now opens at the new earlier time of 7am at weekends in another move to compete with B&Q's early opening times and reflect its Australian retail strategy.
We expect Homebase's new management to reveal more details of its transformation in the coming weeks but, on the evidence seen so far, it is showing no fear in taking on the well established UK market.