Marks & Spencer's results are something of a (not very good) inside joke among the rest of the industry.
The retail giant's constant hive of activity – those thousands of people at Paddington Basin must be doing something, surely – and consequent failure to actually gain any ground seem so inevitable now that it was actually acknowledged by chairman Archie Norman at its full-year results back in May.
Norman joked that the retailer's middle name was 'false dawn' at the results, which weren't too pretty. Pre-tax profit nosedived 62% to £66.8m due to hefty exceptional costs of £514m, of which £321.1m was associated with the retailer's planned UK store closures.
Outside of that, the results were a mixed bag: a 0.9% dip in UK like-for-likes, while total UK sales rose 1.8% with food sales up 3.9% and clothing and home falling 1.4%.
Despite the profits bloodbath, Norman vowed: "I am convinced this is a turning point in our history."
So, will its half-year results – to be issued on November 7 – reveal a changed M&S? Well, not if chief executive Steve Rowe is to be believed. He said at its full-year that the business was aiming to deliver "sustainable, profitable growth in three to five years".
House broker Shore Capital estimates that sales will decline by 1.5% and pre-tax profit by 3.4% in its first half. Again, not so pretty a picture.
It's this that keeps M&S' share price subdued – this time last year it was at 344p, now it rests at 297p. But when the game is so long – and history tells you to take the M&S recovery story with a grain of salt – it's no wonder.
Stores and food
So, what has M&S been doing in the latest six months to achieve that end goal?
First, it's been accelerating store closures – it is now closing more than 100 full-line stores and slowing its Simply Food store opening plan.
The good news here is that closing stores is easy to achieve, if difficult to navigate politically when you're as much of an institution as M&S is. The bad news is that it costs money – and M&S cannot afford to take an axe to its profits for too much longer.
"Both shockingly and reassuringly, some of M&S' worst-performing stores have been open for more than 75 years"
Both shockingly and reassuringly, some of M&S' worst-performing stores have been open for more than 75 years. Shocking that it was allowed to go on for that long. Reassuring that this, at least, is an easy fix.
Less easy a fix is its food business, which has started to go south at a most inopportune moment.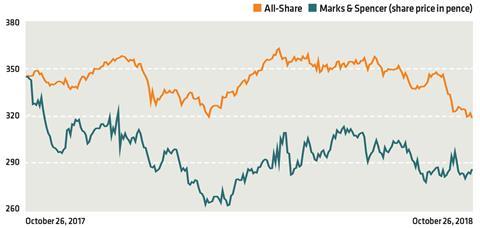 While food sales were up during its last year, they slipped 0.3% on a like-for-like basis. That is an improvement on the previous year's 0.8% like-for-like fall but still worrying for a division that has been relied on to carry the load in recent years.
The retailer has brought in former Sainsbury's and Tesco director Stuart Machin, hired in March to spearhead its efforts.
Earlier this month, it was revealed that former Tesco commercial director George Wright will head trading and the supply chain while April Preston, who has been leading the transformation of Harrods' food hall, has been rehired as product development director.
It will take some time, however, before those new hires begin to have an effect on the ailing food business. In the meantime, M&S will still need to up its game and improve its innovation – with even the discounters doing premium ranges, its USP has lost its lustre.
Partnerships and culture
Culture lies behind many of M&S' issues – the retailer is known for being bureaucratic – something which Norman has pledged to change.
A leadership change is now complete: the new food team joins a new clothing and home team led by Jill McDonald and supported by womenswear and kidswear boss Jill Stanton and menswear director Wes Taylor.
The board too has seen wide-sweeping changes, with Humphrey Singer replacing Helen Weir as chief financial officer and Norman himself taking over from Robert Swannell.
The next step is adding more dynamism into an organisation which has admitted that it has been too "corporate" and "inward looking" in the past.
M&S has enlisted the help of consultant Julian Richer, legendary for his innovative approach to staff management, empowerment and engagement and is partnering with organisations such as True and Founders Factory to become more tech-centric.
Fewer stores, better on tech, rescuing food, embedding management, changing culture… M&S has got a lot on its plate – let's hope the busyness makes a difference this time.