John Lewis's offer to customers has always relied on its heritage. Ahead of its 150th birthday on May 2, we look at how other retailers can do the same.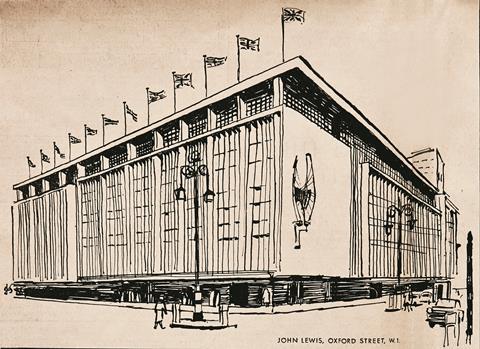 Many of the values John Lewis was founded on still ring true today. Its famous 'Never knowingly undersold' price promise has kept value for money at the heart of its proposition, while the creation of the partnership structure in 1929 gave it a democratic identity. Combined with highly trained staff and well-presented stores, the result is a much-loved retailer.
"John Lewis has been obsessed with service. It is run for the convenience of its customers "

Colin Henry, Jaeger
"John Lewis has been obsessed with service," observes Jaeger chief executive Colin Henry. "It is run for the convenience of its customers. It has invested in staffing, stores and the online experience accordingly because it is about that special relationship with the customer and John Lewis has never lost sight of it. Brands that lose sight are the ones that go astray."
Losing sight of a brand's heritage can produce troubling results, as discovered by the beleaguered Co-operative Group, which is a similar age to John Lewis but posted a £2.5bn loss after a catalogue of errors.
Co-op interim boss Richard Pennycook said at the results presentation: "Over a number of years, management of this organisation have taken some fundamental missteps which have resulted in a weakening of a very proud organisation. 150 years of heritage has been badly damaged over the past five years."
So how can retailers ensure they make the most of their heritage to keep their brand and strategy on the straight and narrow?
Simon Bailey, chief executive of branding consultancy Interbrand Europe, says relevance, differentiation, recognition and, crucially, authenticity are all key. "The John Lewis ownership structure makes the whole offer authentic. There is a whole level of product knowledge and staff are driven to serve the customer, so it's a self-reinforced circle," he says.
But not all big brands managed to stay so true to their past. Burberry's mid-1990s wobble is one of the best-known examples of how easy it is for a brand's identity to be threatened.
The issue came to a head when former EastEnders actress Danniella Westbrook was snapped wearing Burberry's recognisable tartan print head-to-toe. The 158-year-old brand became less associated with its luxury heritage and more with disposable fashion and celebrities gracing tabloid newspapers - not something the fashion house wanted.
"Burberry had become too readily available and so Angela [Ahrendts, Burberry's departing chief executive] had to pull back the licensing," says Bailey. "By pulling back she reasserted how precious it was and said 'you can participate in the experience but you have to come to our stores'."
Be true to your heritage
With older brands, a failure to be 'true' to their heritage is not unusual. Premium fashion retailer Jaeger, a 130-year-old brand, became stuck after changing ownership over the years.
A bid to save money on fabrics meant it lost its core reason for being - to sell clothes made from natural fibres after founder Lewis Tomalin read about the health benefits.
When Colin Henry took the helm at the retailer last year he returned Jaeger to its roots and delved into its archive in an attempt to understand the brand again.
Henry says: "We had a situation where 80% of the collection was man-made and the only reason we were doing that was price. So for fall 2014 80% is natural, featuring cashmere, alpaca and mohair."
"We've looked at the history and we've understood that customers who have a long history of the brand don't want product they can buy on the high street for a fraction of the price."
Health and beauty retailer Boots, which was founded in 1849, prides itself on its customer engagement. According to marketing director for health and beauty international and brands Elizabeth Fagan, it keeps the customer at the heart of all its decisions.
It was Jesse Boot, the son of Boots' founder, who established the retailer's aim to make healthcare accessible to all. Fagan says Boots keeps that at the forefront of its strategy. "We always think you can't go far wrong if you ask what would Jesse do?," she says.
"It's a shortened way of asking what is important to customers? What insights do we have? We are championing everyone's right to feel good in the same way Jesse wanted everyone to be able to access medicine."
But Fagan says it's important to keep looking forward. "We're not doing what we did in the 1930s but we look at how they did it and why," she says. "Women in the 21st century are very different from women back then. We need to recognise that and do it a Boots way."
Henry agrees. "Heritage is a notion of how the past can inform your future. But it doesn't mean to say you want to recreate what you were doing 50 years or 30 years ago," he says.
Peter Ruis, chief executive of 42-year-old clothing retailer Jigsaw, says choosing winning elements from a brand's heritage is often down to intuition. "It's about having the right people on your team who can see it," he adds.
Staying relevant in a digital market
Digital retailing is also key to staying future-proof. Bailey says a good example is Argos. "They've taken a business based on the notion of a catalogue and it is now one of the foremost online brands. The key proposition they have been able to make relevant for today is convenience," he says of the 41-year-old business.
John Lewis's digital offer and innovative approach are often the envy of other retailers. It was the first department store business to introduce wi-fi to all stores and it was one of the first to pioneer click-and-collect.
Lucy Ramseyer, business lead on the 150th anniversary project at John Lewis, says: "It's really important that we keep one eye on heritage and one eye on the future. We have to combine heritage relevance with technology, which is at the forefront of what we do."
And John Lewis isn't the only brand celebrating this year. Superdrug marked its 50th anniversary, proudly spreading the message through exclusive branding on its products. John Lewis has also been keen to capitalise on its birthday through a range of special products.
But some retailers who have a rich heritage and strong brand are failing to use it to its maximum impact.
Bailey says grocery giant Tesco needs to re-evaluate its position in the market and listen to its customers more. "It grew to be the brand that was successful with 'Every little helps' and pioneered customer vouchers," says Bailey.
"Value is still open to them but they need to look at how they can use their strength in the market to focus on what the customer wants."
Although the Every little helps marketing strategy launched just over 20 years ago, Bailey's comments show that heritage is not just about a brand's founding identity. Fagan agrees. "Heritage is ever-evolving," she adds.
Hugo Boss is an extreme example of this. The luxury brand has managed to create a new heritage in fragrance and luxury clothing, following its controversial past making Nazi uniforms during the Second World War. Despite its best efforts to move on, the brand has a past that can still provoke strong reaction today.
But positive emotions are what brands want from their customers. Boots has managed to create a very personal relationship with its customers. Fagan says: "Some customers say 'Boots wouldn't do that'. That sense of ownership is very hard to achieve."
For some John Lewis customers meanwhile, the bond is so deep that in the past some have wanted their ashes scattered in a store, according to Ramseyer. In terms of emotional attachment to a brand, it doesn't get stronger than that.