John Lewis's unique heritage remains as relevant as ever in today's retail environment, as managing director Andy Street tells Retail Week.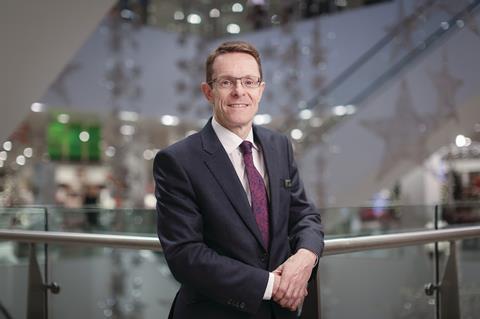 John Lewis boss Andy Street feels a huge sense of responsibility. Leading a thriving retail business through a period of dramatic change is one thing, but doing it at a British institution with 150 years of history is quite another.
"It's a real competitive advantage to have that value set and heritage and longevity"

Andy Street, John Lewis
Rather than describing it as a pressure though, Street says it is a "privilege, responsibility and honour" to lead a retailer steeped in such a heritage.
"You're very conscious that you are a very small part of that history and you'll only be leading the business for a relatively short period of time," says Street.
"Your responsibility is to pass it on to the next set of leaders in better shape than when you took it on. So you do sense that on your watch things have to live up to that history."
When Street made the decision to let BBC TV cameras inside John Lewis in 2009 to make a documentary about the business, he says one of the main drivers was his sense of responsibility to document what he believed would be an important part of John Lewis's evolution, not least because of the financial crisis.
"I knew that whatever happened it would be an interesting time in John Lewis's history," says Street. "And I felt the responsibility for letting people see how we navigated that."
As has been well documented, John Lewis navigated it extremely well under Street's stewardship. How important is the partner model, and its associated values, to John Lewis's success? Critical, Street emphasises.
"I'm a great believer that one thing has been a strength for John Lewis – that through the years, although we've adapted in terms of what people want to buy and how we should sell it, we've been really loyal to the values of the organisation," he says.
"It's a real competitive advantage to have that value set and heritage and longevity. If you are lucky enough to have that, it should direct how you run your business. I fervently believe that the structure has given us a huge commercial advantage."
Street says John Lewis's values have enabled it to lead the pack in a variety of ways. "How we trade has undergone a seismic change," he says. "A third of our business is now online. That is a phenomenal change and it is our model that has enabled us to embrace it quickly.
A practical example of that is the way in which our partners now accept – five years ago this was controversial not just in John Lewis, but elsewhere – online as their saviour rather than competition. Our model enabled people to get on board with that journey early on."
Radical retailing
The energetic and high-spirited managing director says he takes inspiration from John Lewis Partnership's "radical" founder John Spedan Lewis.
"John Lewis can appear to be a very conventional company, yet Spedan was a radical in every sense – the way he employed people, the buying practices, everything," says Street. "It's always encouraged us to be brave, to take risks. Normally those risks have paid off and frankly I wish we could take more."
The way Spedan Lewis set up the business has been "incredibly influential" for Street and how he manages the partnership today.
Street says the focus on balancing long and short-term goals has influenced his own decision-making, as has Spedan Lewis's determination to balance commercial interests with those of the partners. "In the long-term they are aligned but in the short-term there can appear to be conflict between them," says Street.
How easy has it been striking the right balance in the fast-changing modern retail environment and during the recession?
"If I take myself back to the dark days of November 2008, it wasn't difficult at all," recalls Street.
"Me and my team knew that whatever we did, the things we could not compromise on were the trading principles that had seen us through – breadth of assortment, price and service in shops. The phrase that I used at the time was there would be no compromise on any of those basic things."
John Lewis is not the only co-owned business in the UK, but it is one of the largest and considered the most successful. The brand is often held up as the ultimate example of co-ownership and people refer to the 'John Lewis Model' to describe a successful partnership structure.
"I honestly believe the reason we have got to this scale is going back to Spedan; that management will have to be – and he used these words – ruthlessly competitive, ruthlessly efficient," says Street.
"It's all about the combination of the objective of the model while being able to be competitive with the Plcs of this world that has made us so special and given us our longevity."
There may be plenty of advantages to the partnership model that Spedan established in 1929, but does Street find any aspects of the model frustrating?
"No, I wouldn't have loved it for as many years as I have," he maintains. "We just have to be wary in believing our own rhetoric, believing our model on its own will lead us to commercial success. It's the enabler, but it has to be combined with great retailing."
Democratic decisions
Despite what some say, Street insists that painstakingly slow decision-making is not a feature of John Lewis management.
"I think this is where the model is sometimes misunderstood," he says.
"Decisions are not taken by all, en masse. The decisions are taken by the executive management of the company. The really clever thing that Spedan did is [empower] the management to lead, but they have to do so in the interests of the partners. It doesn't slow down decision-making."
He balks at the idea that John Lewis people would find life hard in a more conventional commercial environment. "I don't believe John Lewis people are institutionalised," insists Street. "Ultimately we have to compete with the private equity owned firms, the Plcs. John Lewis people are deeply competitive. The thing that reflects that is there have been quite a number of directors who have moved on and gone elsewhere."
If he had to pick out a few milestones over the 150 years of John Lewis, Street says the most important is the "seminal" founding of the model itself by Spedan. "Had that change of structure not been made would we still be here to celebrate 150 years?" asks Street.
He also picks out the rebuilding of the Oxford Street store after the Second World War and the drive to capitalise early on online trading in the last decade. "That put us in the very strong position we're now in," says Street.
Overall however, looking back through the archives, Street says the thing that struck him most was how, through every period, John Lewis adapted to ensure it was selling the right things in the right way.
"That retail instinct has been alive at all times," he says. He also notes how the retailer has been design-led through the decades. "We've always had a real design consciousness whether it be architecture, products, or the corporate imagery," says Street.
Birthday exhibition
John Lewis is celebrating its birthday in various ways including an exhibition, a rooftop garden, a TV ad and product launches – the tie Street is wearing features an old John Lewis print from the 1860s.
Yet the event that Street is most looking forward to is a rather more inward looking function this September in Birmingham designed to celebrate the partners in particular. "This is about a different business model, and the partner is at the heart of that model," explains Street.
"We want to ensure every partner feels part of what Spedan described as an experiment in industrial democracy. It is an experiment, and experiments are exciting because they are unpredictable. I want to make sure that notion of unpredictability, living on the edge a bit, is felt by our partners."
Street can feel confident that the John Lewis Partnership model is no longer viewed as an experiment, but a proven hypothesis.
John Lewis at 150: The history of the department store
1

2

Currently reading

John Lewis at 150: Boss Andy Street on the partnership "experiment"

3

4