John Lewis sales rose by 3.8% for the week ending January 10 despite the poor weather as online fashion surged.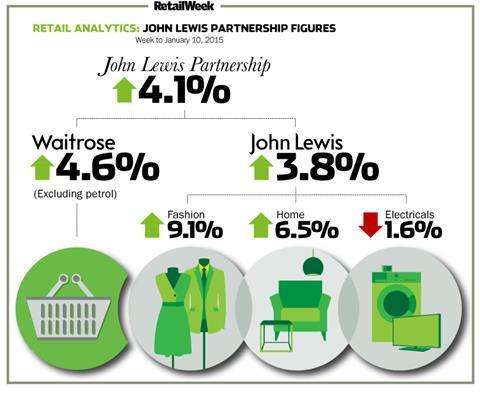 Online fashion sales were up 35% year on year, while home also recorded a robust 20% increase in sales.
John Lewis merchandising operations director Jon Williams said: "The shape of sales suggests customers are preparing for the practicalities of the New Year.
"The annual fitness drive is being fully embraced with sports goods up 27% year on year including large sports equipment. Families got set for the return to school with childrenswear 26% up on last year and home sales were strong throughout, up 6.5%, with spring cleaning top of mind for some, shown by utility shop being 14% up."
Meanwhile, sister retailer Waitrose recorded a 4.6% jump in sales on the back of half-price promotions and healthy New Year resolutions.
Sales suggest shoppers have begun 2015 wanting a healthier diet with pre-packed fresh fish sales risinging by more than 20%.