John Lewis has reported strong Christmas sales but boss Andy Street also highlighted the distorted trading patterns of Black Friday.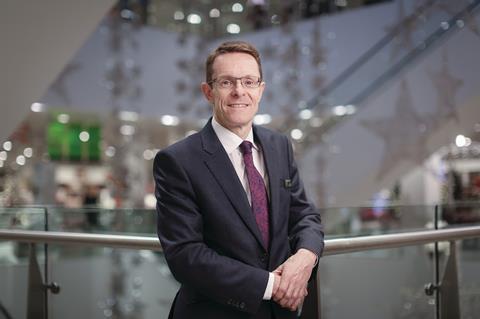 In the five weeks to December 27 total sales were up 5.8% to £777m. Like-for-likes increased 4.8%, driven by online growth and click and collect. Store sales and overall margins were broadly flat.
Street said that for the first time, the week in which Black Friday fell was the department store group's strongest week of the entire Christmas period, and its biggest week in its 150-year history.
But despite the fact John Lewis broadly benefitted from the discounting bonanza and was able to fulfil all its orders, Street questioned the overall effect of Black Friday on the industry. Scores of retailers' systems buckled under the sheer volume of orders placed on Black Friday.
"This is the first year that the Black Friday week was the peak week for us"

Andy Street, John Lewis managing director
Street told Retail Week: "This is the first year that the Black Friday week was the peak week for us, even bigger than the pre-Christmas week. That was a new phenomenon. We knew Black Friday would peak. The test was could we get through it, and we did."
But he added: "My honest view is that overall it is not in the industry's interest to focus so much trade onto one day. You want more steady trade and obviously you want more of it at full price."
Street said he hoped future Black Fridays would not be as intense, arguing that 2014's extravaganza coincided with deep promotions in fashion after the warm autumn.
"I hope this will have reached a high-water mark," he said.
Street said while Black Friday impacted margins on electricals products, a strong performance in home and fashion in the following weeks meant overall margin across the five weeks was similar to last year.
Despite Black Friday being the stand-out trading day, Street said certain product lines did well in the final week, particularly fashion, beauty and home gifting. He said Monday December 22 was a "mega day" in the shops.
Online sales increased 19% in the five-week period, representing 36% of total sales, up from last year's 32%. Click and collect proved more popular with shoppers than home delivery this Christmas, with 56% of online orders being collected in shops. Click-and-collect accounted for approximately 17% of total sales, Street said.
A logistics Christmas
"This was a click-and-collect Christmas, it just tells you the convenience that customers now want," said Street. "With Black Friday driving a higher proportion of online sales and customers increasingly wanting more convenience, this has meant a real concentration on fulfilment, making this a truly 'Logistics Christmas'. The investments we have made and the new capabilities we have built in recent years in distribution and IT have been fundamental to ensuring we successfully navigate this changing shape of trade.
"If you're going to take the sales you need to feel very confident that you can fulfil them and I think we have done that. We will continue to prepare for that because that is what the customer now expects of John Lewis, that they can order with confidence and I think that's what lies behind our 19% online growth this Christmas."
Street said stores still have a significant role to play in the John Lewis offer, despite sales remaining flat across the estate over Christmas.
He said the flat performance was a symptom of the shift to online shopping, a trend the "whole industry is facing".
However he added: "I'm pretty confident that our [store sales] number is going to be better than the market."
2.5%

The rise in store sales for the year
He said that store sales for the year were up 2.5%, reflecting the fact that shops are "still a growing channel". "There is no change to the strategy of bricks and clicks reinforcing one another and I am absolutely certain we would not have achieved 19% growth online had we not had the shops supporting online," he maintained.
John Lewis' store opening strategy is on track, and the retailer is opening a major flagship in Birmingham in September.
Over the five weeks, electricals sales were up 6.8%, home was up 2.3% and fashion increased 7.8%.
Regarding products, Street identified a more "traditional spread of gifting" than other years. "The last couple of years our numbers have been hugely propelled by the tablet craze, and that plateaued off so some more money went into some other areas, particularly kitchen," he said. Wearable tech also sold well at John Lewis over the festive season.
Street said he felt "quietly confident" about trading prospects for the year ahead. "When you come out of Christmas with 5.8 that's solid, but it's not exuberant, it's not boom times," he said. "This is about a modest recovery which we are navigating reasonably."