Sales at John Lewis department stores climbed 9.6% year on year to £124.3m last week as the Sale got off to a "bumper start".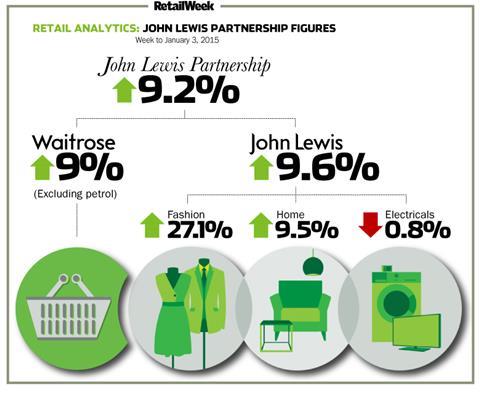 Fashion led the way as sales leaped by 27.1% in the period to January 3, which the retailer said benefited from an additional weekday's trading ahead of the New Year holiday.
Childrenswear did well, up 45%, while matching a rival's promotion helped lift accessories and beauty by 28%.
Home category sales rose 9.5% in the week, John Lewis reported. Textiles and carpets advanced 11% and furniture was up 9% as shoppers snapped up clearance deals.
However, sales of electricals and home technology edged down 0.8%.
Online sales rose 17% and click-and-collect was up 37%.
At John Lewis's grocery stablemate Waitrose, sales climbed 9% year on year to £128m.
Champagne and sparkling wines were in demand, up 14% and 30% respectively.
Waitrose also recorded its biggest ever week for fresh pizza sales – they rose 9%.