The opening of a new Galeries Lafayette department store on Paris' Champs-Élysées is a lesson in what is possible in creating a point of difference. 
The arrival of a new department store is an infrequent occurrence in the UK, with John Lewis the standard bearer in recent years (although Debenhams has opened three new stores in the past two years, a galling fact given its current woes).
Now, however, there seems to be little on the horizon and the question on the lips of some is how many Debenhams and House of Fraser stores will finally close as their owners move to safeguard their businesses?
Yet make the short hop across the Channel and things appear rather different for France's leading department store player, Galeries Lafayette, on recent evidence at least.
With a major store opening in Paris – and a tie-up with Eataly to open France's first outpost of the Italian 'slow food' outfit – refurbishment of a number of its provincial stores and, perhaps most importantly, the opening of a second massive Chinese store, in Shanghai, this is a retailer that is unafraid of expansion and doing things differently.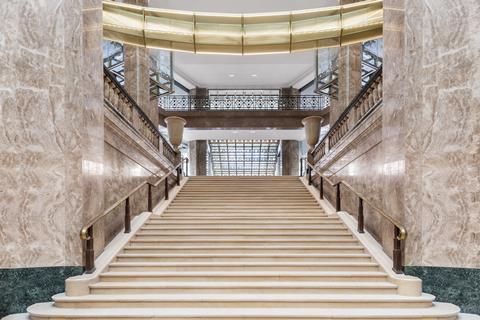 Across the country there are 56 Galeries Lafayette stores, with highlights found in the big cities, Lyons, Toulouse, Marseille and suchlike, as well as the 73,000 sq m flagship on Paris' Boulevard Haussmann.
A fresh addition was added to its estate with the opening of another Paris store on the iconic Champs-Élysées at the end of March.
At 6,500 sq m, this new outpost is less than a tenth of the size of the Boulevard Haussmann behemoth, but it is still the largest shop on Paris' best-known thoroughfare.
Why open another Paris store?
So why does this retailer think it a good idea to open a store that is just 1.5km from its global flagship?
Alexandra Van Weddingen, vice-president, corporate communications, is clear that there is a need for the new store: "Champs-Élysées is a brand and it's a brand that matches very well with Galeries Lafayette. The positioning of this store is different."
The store is aimed at a younger, fashion-forward, affluent shopper – the type of shopper who would gravitate to London's Dover Street Market.
Practically, this means it has a large number of brands that are found in this branch only, and those entering the store do so through a square tunnel made of a translucent material that is backlit on the floor, walls and ceiling. The effect is a little like a 'portal' of the kind that used to be favoured in 1970s sci-fi TV series.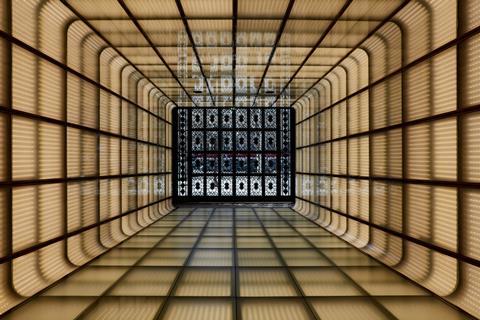 All of which points to this store serving, Galeries Lafayette hopes, a distinctly different customer from the tourist horde that travels the globe to visit the Boulevard Haussmann flagship.
This may be a Galeries Lafayette outpost, but its entrance, interior and product mix mark it out as being something different from any other store operated by the retailer.
Inside Galeries Lafayette Champs-Élysées
Four floors, 6,500 sq m of selling space and an Art Deco interior with a galleried atrium in the middle make this a compelling store.
BIG (Bjarke Ingels Group), the Danish design and architectural practice that created the Galeries Lafayette Champs-Élysées internal landscape, has added to the view in the atrium by installing floor-to-ceiling glass boxes on the top floor, overlooking the void.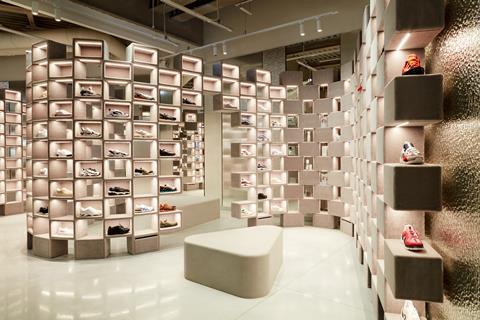 These act as internal windows – there are no outward-facing windows in the store's sales area – on the second level.
The eye-catching feature draws attention and, as Alison Cardy, managing director at HMKM, which designed the interior of the newly opened Galeries Lafayette Shanghai store, notes: "They're a stroke of genius because you're giving the brands a reason to get up to the second floor [they can be seen to greater advantage than on other levels]."
The ground floor of this store is not that large. The internal 'windows' are therefore part of a concerted effort to get shoppers to the upper levels and down to the basement. The latter is home to The Food Court which, thanks to neon lighting and upscale food counters, is a country mile away from what that term traditionally implies.
A final element that makes this department store different is the use of technology. With 300 sales associates armed with a bespoke Galeries Lafayette app to help in the business of selling (the app can also be used by shoppers), the store is wired.
There are even hangers, developed by Galeries Lafayette, that enable customers to see what sizes are in stock and have them ready in the fitting rooms waiting for them.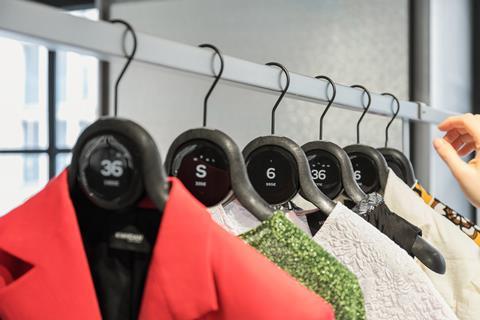 This is a store that blends heritage with modernity, giving it a real sense of something different from the department store norm.
Being different
That is exactly what Galeries Lafayette has done: focused on being different – both in its store formats and the customer that each store is aiming to attract – and making sure its stores are fresh.
Just as importantly, Galeries Lafayette is an international concern with plans to open around 10 department stores in the biggest Chinese cities. It is set upon taking the spirit of its department stores, but offering something appropriate to each local Chinese market.
There is a real difference between the first Chinese store, in Beijing, and the Shanghai branch that 'soft opened' last month.
Former House of Fraser chief executive and Saks Fifth Avenue chief operating officer Andrew Jennings says Galeries Lafayette has made a statement with its Champs-Élysées store: "Each store has to be different, and this one is. And if you don't stand for something, you stand for nothing. Go big or go home."
Van Weddingen says lessons will certainly be taken from what has been done on the Champs-Élysées and what works will be exported to other stores across the chain in France, without 'rollout' being involved.
Can UK department stores follow Galeries Lafayette's lead?
The UK department store sector has been upended over the past few years. Debenhams languishes in administration and is plotting a CVA, House of Fraser is not the force it was and even market leader John Lewis has come under the financial cosh, with the department store's profits plunging 56% in its last financial year.
This has led some to question the role of the department store.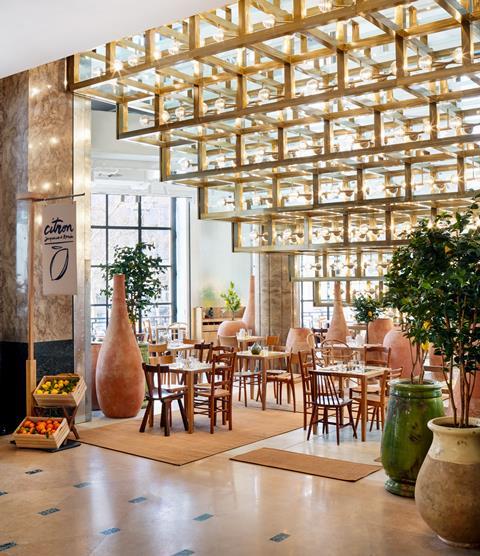 Jennings says: "The [department] store of the future has to be a magnet. This means innovation and differentiation.
"The reason that House of Fraser and Debenhams are having problems is twofold. They have stores in the wrong locations and they have nothing different. They are tired and nobody wants to visit a store that is tired. You can have 10 stores, maybe more, but forget about 80 or 100 stores. It doesn't work. It's all about sparkling new, and that does not mean chains."
Both Debenhams and House of Fraser have too many stores with too little difference between them. It is also apparent that in store design terms, the big UK department stores focus on creating standout shops in London and a few big cities. The rest of the UK estate gets a watered-down – and less costly – version of those formats.
Galeries Lafayette of course benefits from being the dominant department store player in France (Printemps is much smaller), but its unwavering dedication to being different – from Paris to Perpignan – sets it apart from the UK's department stores.
Perhaps more than any other part of UK retail, the department store sector is one in which the 'fewer but better' maxim should be applied, which means difference and an open mind.
A canny look at Galeries Lafayette and its current activities might be useful, particularly in light of its international activities.