Beales is seeking rent reductions on around a third of its stores after claiming some shops have been "hampered by expensive legacy leases."
The department store group, which leases 35 stores across the UK as well as its head office in Bournemouth and warehouses in Yeovil and Bolton, has divided its portfolio into two categories.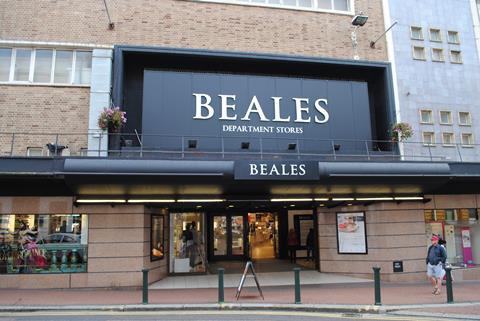 Beales said it will retain leases at current rents on 24 category-one sites, including its flagship store in Bournemouth.
According to the company voluntary arrangement (CVA), rents on those sites would be paid monthly rather than quarterly for three years.
For the remaining 14 category-two sites, the CVA proposes that rents will be reduced by 30% for a period of 10 months "while the company engages with landlords to agree the basis of any continued trading from these sites."
It comes just days after fellow department store retailer BHS unveiled similar plans to bring down its property costs through a CVA with landlords. It is asking for rent reductions of up to 75% on some stores, blaming a "legacy issue of over-market rents".
Seeking compromise
Beales chairman Stuart Lyons said: "Most of Beales' stores are profitable, including our flagship stores in Bournemouth and Poole, which are unaffected by the proposal.
"However, a minority of our stores lose money because leases agreed some years ago are no longer sustainable due to changes in the economy and local conditions.
"These legacy rents have been dragging the group down. This is a unique opportunity to restore the group to financial health."
Like BHS, Beales has hired KPMG to oversee the CVA. KPMG restructuring partner Rob Croxen said: "Beales is a familiar face on the high street of many towns and cities up and down the country. However, in recent years, the profitability of certain stores has been hampered by expensive legacy leases which were agreed many years ago.
"This CVA seeks to strike a balance which provides a fair compromise to the landlords, while allowing the viable part of the business to move forward.
"It's particularly important to stress that none of the stores will close on day one, and employees, suppliers and business rates will continue to be paid on time and in full – something which we know from our work on previous CVAs is of critical importance to landlords."
Beales needs to secure at least 75% creditor approval for the CVA to go ahead. The retailer said Panther Securities, the landlord of 12 Beales stores, and its largest supplier, Associated Independent Stores, have already agreed to support the CVA proposals.
KPMG will hold talks with creditors during the next three weeks before they vote on the proposal on March 24.