Exclusive Retail Week research reveals the UK's top 20 most trusted retailers, as voted for by consumers.
Consumers have been hit by a barrage of shocks over the past few years: from the pandemic to Brexit, along with product shortages and a growing awareness of the climate crisis, the world is shifting.
In response, people are turning to the brands they shop with to provide some much-needed consistency, reliability and reassurance.
Exclusive new research of 2,000 UK consumers by Retail Week and Okta reveals the brands doing this best, showcasing the retailers leading the way in building trust and loyalty, and examining what it is they are doing that makes consumers confident to purchase.
Click here to download the full report, The 20 Most Trusted UK Retailers, and find out which business tops the ranking, as voted for by consumers.
Top 20
The report includes actionable insight, including from high street stalwarts John Lewis and Marks & Spencer, which rank third and fifth respectively.
M&S' longevity and reputation for quality are mentioned by consumers in our index – as many point out, everyone has grown up with the brand. Its ethics and commitment to combating climate change are also mentioned.
M&S Food marketing director Sharry Cramond says product sourcing is an important element of building consumer trust.
"We believe in being responsible, fair, decent and truthful in how we source and produce our products," she says.
"And we recognise that we also have a duty to be just as transparent and responsible in how we sell and market our products, too – which is an important way we maintain and grow trust with our customers."
At John Lewis there has been a huge focus on online in 2021.
Customer director Claire Pointon says: "During the pandemic, we saw an acceleration in ecommerce with between 60% and 70% of sales coming from online, compared with 40% before.
"This meant our customers' experiences of online shopping became absolutely key in building trust, particularly at a time when our shops were closed."
Find out more about why these brands are trusted and how this is achieved in Retail Week's new report The 20 Most Trusted UK Retailers.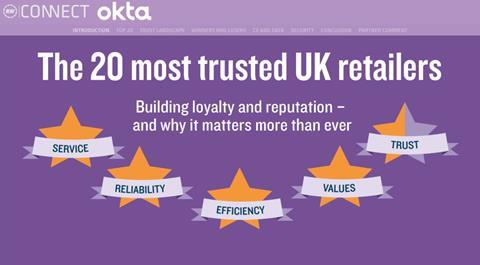 You'll also discover:
How to maintain trust as businesses shift into online-led models
The factors that make consumers lose trust in a brand
How to rebuild trust after a crisis, such as a data breach or PR disaster

Okta is the leading independent provider of identity for the enterprise. The Okta Identity Cloud enables organisations to securely connect the right people to the right technologies at the right time. With more than 6,500 application integrations, Okta customers can easily and securely use the best technologies for their business.