Christmas retail sales predicted to jump 4% to £42.6bn
Mintel raises December spending expectations after Black Friday "damp squib"
But other analysts argue Christmas spending will remain "subdued"
Retail sales could grow by up to 4% in December and surpass the £42.5bn mark, market research firm Mintel has predicted today.
Analysts at the company had initially forecast a 2.5% increase on last year's £41bn festive spending spree, but have now upped their guidance following a Black Friday "damp squib."
As revealed by the BRC-KPMG Retail Sales Monitor this morning, like-for-like retail sales dipped 0.4% in November as the promotional frenzy failed to spark a sales boom.
"I think there's a lot of pent up spending power still there waiting to come through in December"

Richard Perks, Mintel
And Mintel director of retail research Richard Perks said that a "completely pointless" Black Friday period has left "a lot of pent up spending power" that will come to the fore in December as shoppers splash out on gifts, festive decorations and indulgent food.
Perks told Retail Week: "Spending on promotions at the end of November was lower than it was last year. The BRC had suggested that people were holding off spending in October ahead of Black Friday, so I think there's a lot of pent up spending power still there waiting to come through in December.
"The underlying trends are pretty good – consumer confidence is quite strong, there is no threat on the immediate horizon of interest rates changing – so everything points to Christmas being pretty good.
"I'd been saying 2.5% growth in December. When I set that number, I thought it might be quite challenging. Now I think it's probably on the low side. It could easily be 3.5% or 4%."
Black Friday damp squib
Perks added: "The major unknown was always: 'what will be the impact of Black Friday?' I don't think anyone expected it to be the damp squib it turned out to be.
"That means there is that much more spending power and it's great news for retailers, because it means they are going to get more sales at full price than they got last year.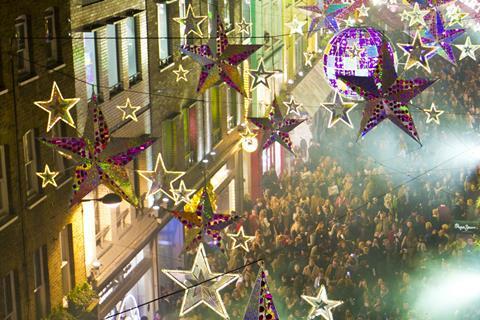 "It should be a better Christmas in sales terms and better for profits as well."
Retail analysts at Verdict expect Christmas spend to drive a record quarter for retailers, with revenues poised to grow 2.2% to £92.1bn during the period, buoyed by an improving economy, rising wages and falling food prices.
Verdict analyst Honor Westnedge said: "Health and beauty will be the fastest growing sector, up 4%, with the department stores discounting big name brands by 10-15%.
"Convenience will be key again this year and retailers have worked hard during the year to avoid delivery commitment mishaps experienced last Christmas. Online spend will reach £14.7bn in the fourth quarter, with click-and-collect playing a major role, so it is vital retailers meet shopper expectations and seize opportunities to upsell during customer collection."
Subdued spend warning
However retail analyst Richard Hyman believes "the most discounted Christmas seen for generations" will dent margins and result in only "a modest increase in spend" of around 2.5% during December – the uplift originally predicted by Mintel back in October.
Hyman added: "The irony is that is that consumers are better off than they have been since before the debt crisis. Nevertheless, retailers will have to work very hard for what will be a modest increase in spend year on year."
"The sluggish response to Black Friday shows that consumer confidence has wobbled a bit and that consumers feel in no rush to spend at a time of price deflation in the market."

Nick Bubb, analyst
Independent analyst Nick Bubb agreed that Christmas spending will be "subdued". He said: "Unless the weather soon turns much colder, there is little reason to expect the usual late Christmas spending rush to be anything other than pretty subdued.
"There will always be wild-eyed men in the perfume halls on Christmas Eve, but the general shape of high street spending is well set.
"The sluggish response to Black Friday shows that consumer confidence has wobbled a bit and that consumers feel in no rush to spend at a time of price deflation in the market – and when they do, it is very easy now to just shop online."