Daily deals sites are gaining popularity among savvy shoppers and Amazon's entry into the market takes the competition up another notch.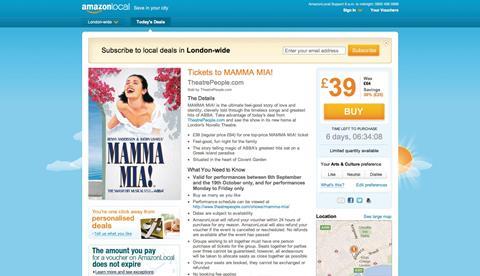 Why are we talking about this now?
Amazon has entered the daily deals market with the launch last week of Amazon Local. As revealed by Retail-week.com, the website offers shoppers localised deals on services, products and experiences such as hot air ballooning. It already offers the service in the US.
How does it work?
Customers can sign in to the site using their main Amazon log in. Shoppers receive deals tailored to their preferences and locality and the service uses payment details already stored on Amazon. Offers are live for a restricted time period, and only a limited number of deals are available. At present the website only caters for shoppers in London.
Who are the established players in the market?
Groupon, which works in largely the same way as Amazon Local, is one of the best-known deals sites and has grown phenomenally over the past four years. It has benefited from the trend of cash-strapped shoppers becoming increasingly savvy when it comes to money-off vouchers and bargain buys.
When a product is bought, Groupon, which floated on the New Stock Exchange last year, takes a slice of the profits made by the merchant selling it. Another key player is LivingSocial, in which Amazon invested $175m (£110m) for a stake in 2010. It is unclear what the relationship, if any, is between LivingSocial and Amazon Local.
Wowcher and Kgbdeals are among other deal sites that have sprung up over the past year or so.
Groupon got into hot water recently, didn't it?
Groupon was hauled in front of the Office of Fair Trading in March after customers complained to the Advertising Standards Agency about a string of controversies amid the company's rapid expansion.
The Office of Fair Trading said it was concerned that Groupon exaggerated its discounts, failed to honour deals and set "unfair terms". It has since pledged to rectify these problems.
How else has Amazon diversified?
Amazon started off as an online bookseller but diversified into selling electricals, clothing, home and much more. Non-entertainment is now the largest part of the business.
Amazon has also become a manufacturer, creating the Kindle ereader as well as developing an android smartphone. It also acquired online DVD rental service Lovefilm in January last year.