"The sand has shifted. People are willing to give information about themselves. It is really about them recognising that it reduces friction. And if you can reduce friction in their shopping [journey] then you have done them a favour," said former Figleaves chief executive Lahage, who was also formerly vice-president of fashion at Ebay and is now the co-founder and investor of HR communications platform Aequip.
Lahage spoke to Retail Week at its latest virtual panel, The New Laws of Loyalty, produced in association with Epsilon-Conversant as part of the New consumer content series.
She was joined by online fashion retailer Cotton Traders chief marketing officer Shona Jameson and Epsilon-Conversant senior vice-president of technology for international Joseph Taylor.
During the event, Lahage revealed: "The lines are blurring between what they know you are capturing about them and what they expect you to know."
Jameson agreed. "If the customer feels in control of their data, there is a huge willingness to provide data," she said, adding that "trust is really important".
Taylor echoed this. "It's really about two things. The first is value exchange: why are you asking them for the data? What are you going to get for it? The second one is about context."
He advises retailers to be transparent about how they are using information and to provide their customers with a secure space online where they can manage their own data.
These are just a handful of the tips the experts offered to help retailers drive loyalty to retain existing customers and win new ones.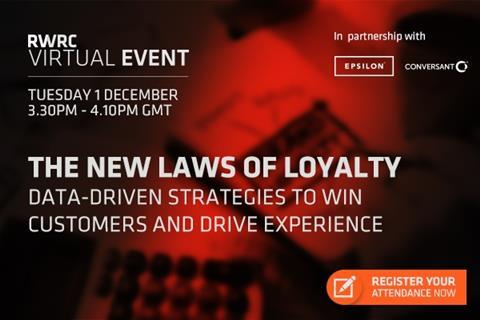 To find out more, register to watch the full event for free here. You will discover:
Exclusive research on what 1,000 UK consumers want
Essential ingredients to generate loyal customers
The data you need and that consumers are willing to give
Why loyalty will be critical in 2021
Epsilon-Conversant is the leader in outcome-based marketing, enabling marketing that's built on proof, not promises. Through Epsilon-Conversant PeopleCloud, the marketing platform for personalising consumer journeys with performance transparency, we help marketers anticipate, activate and prove measurable business outcomes.