Lockdown, store closures and bans on large gatherings created what Marks & Spencer boss Steve Rowe termed "near impossible trading conditions" this golden quarter.
Retail Week's latest report explains the trends from this very different Christmas and lessons to help you trade through the most volatile trading conditions ever experienced.
Christmas 2020 was unlike any other. Retailers had to battle through ever-changing restrictions, which could – and often did – close stores overnight, and cater to consumers shopping in dramatically different ways for dramatically different things during the festive season.
Simply having access to products, be it through essential stores, exemplary online offers or convenient collections points, became a key purchasing factor for consumers.
Retailers had to be operationally nimble so their supply chains and staff could adjust to rapidly changing conditions and give customers this access.
In Christmas 2020: Learnings for the year ahead, produced in association with Barclays, Braze, Critizr, Google Ads and Openpay, Retail Week shines a spotlight on the retailers that got this right and pulls out lessons that all businesses can learn from as they battle the same volatile trading conditions in 2021.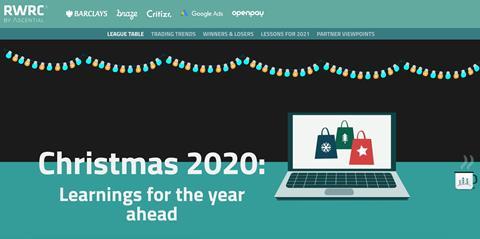 How consumers shopped during Christmas 2020 and what influenced purchasing decisions
The key trading metrics such as footfall, sales and online growth from the golden quarter
Which winning strategies helped retailers ride the storm
The trends that are here to stay in 2021 and beyond
PLUS: Discover who the real winners and losers were over the Christmas period in our comprehensive trading league table
Online shift
One of the big trends evident in Christmas 2020 was the dramatic channel shift to online. Consumers swapped trips to city centres for shopping sessions on the sofa with 48% of all consumer spending taking place online over the period, according to Barclays.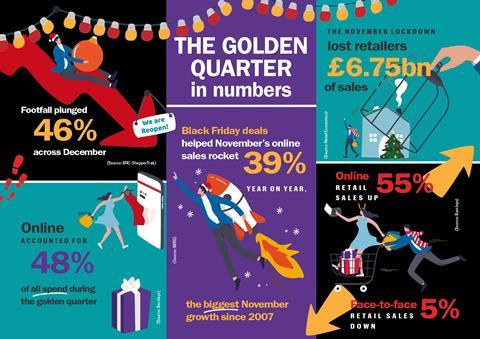 Retailers with strong online offers were better placed to offset the impact of the November lockdown, which Retail Economics said lost non-essential retailers £6.75bn of sales.
For example, Next's 38% growth in online sales helped it offset an eye-watering 43% decline in-store sales.
However, being able to switch from a multichannel retailer to a pureplay overnight was no mean feat. Retailers had to build in extra capacity, make sure stock was in the right place and they were offering customers convenient ways to receive their product.
Sainsbury's, which the report highlights as one of the big Christmas winners, ramped up ecommerce capacity, which enabled its online grocery arm to soar, and made its Argos products easily accessible both through shop-in-shops and collection points in supermarkets, giving shoppers a reason to shop with the retailer.
Click-and-collect sales surged 24% at Argos in the week leading up to Christmas, showing the power of convenient fulfilment. Benefit from this case study and more by reading Christmas 2020: Learnings for the year ahead.