Amazon, Tesco and Asda have come out on top of an exclusive consumer poll asking which retailers offer the best customer experience, but Aldi isn't far behind.
The discount retailer, which overtook Morrisons to join the 'big four' in September last year, was fourth. Morrisons, by contrast, didn't even make the top 10.
Retail Week interviewed 1,000 UK consumers about their spending intentions next year for its report Crisis and the consumer: business-critical insight into how 1,000 UK consumers are shopping right now, produced in association with Jaywing, Juniper, Opia and Yext.
When asked, unprompted, what their favourite retailer was for customer experience, they chose the following:
Amazon
Tesco
Asda
Aldi
Sainsbury's
John Lewis & Partners
Marks & Spencer
Next
Lidl
Nike
The full report, which you can download here, takes a deep dive into the strategies of the top five as we head into 2023.
Here is a taster of what the report reveals about number-one choice Amazon:
Amazon makes life easy
We asked consumers to explain how they feel retailers are supporting them and one word came up repeatedly – 'easy'. Shoppers are looking for speed, ease and convenience more than ever, and Amazon has written the playbook on this over the past two decades.
As the world's largest online retailer, Amazon's investment in technology to achieve this easy shopping experience is significant. The company is known for prioritising long-term investment in scale over short-term profit.
For example, in response to the pandemic, labour shortages and unsustainable courier costs, Amazon has doubled the number of parcel lockers in the UK, to 5,000, in the past two years.
However, even the online behemoth is raising red flags about the retail market's outlook. In October, boss Andy Jassy cautioned that there was "a lot happening in the macro-economic environment" that could hammer its top and bottom lines during the holiday season.
Amazon warned the market that sales may only come in between $140bn (£121.28bn) and $148bn (£128.21bn) during its fourth quarter. Analysts had previously expected $155.15bn (£134.4bn). Operating profit could be anywhere between nothing and $4bn (£3.47bn), it said, as uncertainty swirls around consumer spending this Christmas.
Amazon reported a 9% drop in third-quarter profits to $2.87bn (£2.49bn) despite a 15% uplift in net sales to $127.1bn (£110.1bn). Its international arm, which includes its UK business, suffered widening losses of $2.5bn (£2.17bn) compared with $900m (£779.98m) a year ago.
UK country manager John Boumphrey says the focus at the online giant is low prices, vast selection and fast delivery – checking three important boxes for our survey respondents.
"That's something that our customers value every day, especially when budgets are tight, and we have always focused on the best possible customer experience," he says.
Amazon also worked to give shoppers the opportunity to spread Christmas shopping costs in 2022, with an early access sale for Amazon Prime members offering a two-day shopping event in mid-October.
"Not only were UK Prime members able to get ahead of their festive shopping and spread out their seasonal spending, they saved over £35m in the 48-hour sales period," Boumphrey says.
"Members ordered more than 100 million items from Amazon's selling partners around the world, most of which are small and medium-sized businesses."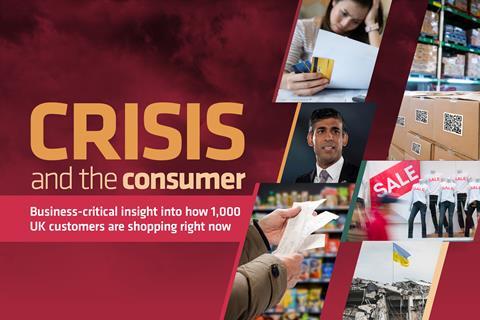 Crisis and the consumer
For more on how to navigate the challenges the rising cost of living will present in 2023, register for free access to the Crisis and the consumer report now.
It will detail why you should:
Prioritise value for money – this is consumers' number-one concern
Think creatively – educate, share ideas and foster a positive sense of being in this together
Tailor your response – people are affected in different ways and will require different messaging and solutions
Cut costs where possible – identify what can be cut and where efficiencies can be found
Not forget about sustainability – purpose still matters and will continue to do so as the crisis evolves