For Retail Week's Christmas 2022 bestseller predictions, click here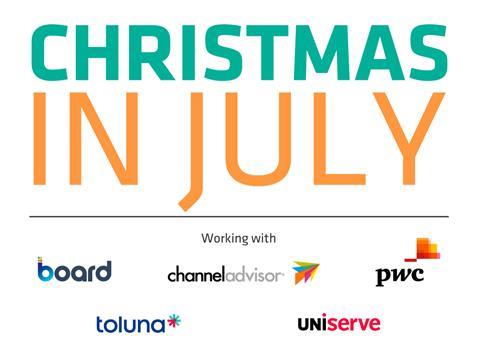 After a challenging golden quarter for many outside grocery last year, hopes are already high for Christmas 2021.
The speed of the vaccination rollout, combined with the easing of restrictions, has led to the anticipation of a 'normal' festive season – an excitement reflected in retailers' offerings this year.
Jacqueline Windsor, head of PwC's retail strategy practice in London, says she is "super-optimistic about Christmas this year", while Judith McCandless, account manager for business intelligence software provider Board, says: "There are signs that consumers will want to go big this year after missing out on 2020 celebrations.
"Assuming no further lockdowns, families and friends will be looking forward to spending time together and sharing the enjoyment around the festive period."
"We're expecting to see people squeezing every last drop out of Christmas this year, celebrating all the special moments the festive season has to offer in a bigger and better way"

Elizabeth Hewitt, Boots
Retailers are also expecting increased consumer demand. Boots senior seasonal buying manager Elizabeth Hewitt explains: "We're expecting to see people squeezing every last drop out of Christmas this year, celebrating all of the special moments and occasions the festive season has to offer in a bigger and better way – with more family get-togethers, more socialising and more gift giving."
Although customers are placing emphasis on having the perfect Christmas after many saw their plans thwarted by lockdowns in 2020, shopping around will remain at the forefront of their minds after a year of relying heavily on ecommerce to shop for everything from stocking-fillers to crackers.
Vladi Shlesman, managing director for EMEA at ecommerce software provider ChannelAdvisor, says: "Covid-19 has not only enticed more people to shop online, but also led to experimentation and willingness to try new things, categories and products.
"The key to this Christmas is to remember that consumers don't look at channels in isolation; they consider them a part of an overall experience. So, while a customer may be shopping offline this Christmas, they can be checking prices, browsing product descriptions or creating wishlists beforehand."
So which products will be the bestsellers this festive season?
Home
Items for the home look set to have a very successful Christmas season this year.
Windsor believes the home will be the centre of consumer focus this Christmas as it has become a "safe haven". She explains: "The role of the home has been elevated."
Home improvement, a trend that emerged during the pandemic, will now take on additional festive flair.
Following a year of lockdown and separation, customers will be aiming to create the ideal traditional Christmas with a fully decorated home as larger groups look set to reunite for gatherings.
M&S buying lead for home Victoria Farrow explains: "Alongside finding the perfect gift, we know how important making the home look and feel special is for our customers, so for 2021 we've created a range that will help our customers breeze the challenge of decorating the perfect Christmas tree at home."
There is an increased focus on one-of-a-kind items that can be passed down from generation to generation – a nod to the perceived importance of togetherness after months of separation.
M&S has added a collectables category to its hanging decorations while Notonthehighstreet aims to offer items that families can bring out every Christmas, including candelabras and reusable advent calendars.
Customers are also looking to be more sustainable in their decorating choices, finding pieces that will make a comeback but also add touches of opulence following a year with little sparkle.
Both Notonthehighstreet and Lakeland are illustrating their eco credentials this year through 'green' crackers – a sustainable twist on an offering that will be in demand this Christmas. Lakeland's crackers contain no plastic pieces and are fully recyclable, while Notonthehighstreet's offerings can be refilled and reused year after year and include plantable decorations.
Wreaths have also undergone a transformation. Dried floral options are available on Notonthehighstreet, while Lakeland is offering an LED version that sold out rapidly last year.
For Poundland, its bestselling 'Gonk' figure will be back in demand, with reality TV star Stacey Solomon proclaming herself one of its biggest fans.
Poundland senior buyer Frances O'Sullivan says: "One of the biggest surprises last year was a figure we call the Gonk, a little gnome creature. We did a first trial last year and it sold out within two weeks. So we have gone much bigger this year."
Further investment in the home will move away from decorations.
Boots' Hewitt says: "We anticipate that homeware and lifestyle gifts will be a popular category for Christmas 2021 as people look to make their house a home." Potential bestsellers at the retailer will include an expanded range of new products, including prints, plants and home decor.
"Consumers will want to continue the at-home barista experience"

Philippa Simons, Lakeland
The lockdown trend for making treats at home also shows no signs of abating. Pizza ovens will be a popular choice for both homes and gifts this Christmas as people find novel ways to spice up at-home dining. According to Lakeland, the Ooni pizza oven will be one of its biggest sellers of the year.
Similarly, coffee machines, such as the Lakeland bean-to-cup version, are set to sell well, with the retailer's head of buying trends Philippa Simons adding: "Consumers will want to continue the at-home barista experience."
Heated blankets are also expected to be popular, while candles are being touted as potential bestsellers. M&S predicts its innovative light-up candles will prove particularly in demand.
For many, a new pet became part of the household last year, so M&S is increasing its festive pet range to accommodate this trend.
Toys and crafts
As entertainment at home focused on streaming and video games, demand for toys linked to these popular media offerings are expected to soar this Christmas.
Gary Grant, founder of The Entertainer, says: "There are lots of brands that we're excited about for Christmas 2021, including Paw Patrol, following the movie this summer, CoComelon, Super Mario, LOL, Barbie and Bluey."
Barbie is also expected to be a hit at Tesco along with wooden toys, with the grocer championing a Go Play Train set.
Crafting and DIY are among the activities many picked up over the course of long stretches spent at home. These gifts look set to gain popularity this Christmas, too, promoting activity and engagement with all the family.
McCandless says: "We can see a boost in items such as plants and home-cooking products as consumers continue their interest in the hobbies they picked up during lockdown."
Lakeland is offering a Borgo de'Medici pesto focaccia kit, gingerbread houses and bread mixes, while Notonthehighstreet is selling crafting sets for making Christmas baubles, personalised puzzle games and gardening kits.
Hobbycraft is also expecting a rise in interest in recyclable products, with brown-paper biodegradable wrap forecast to be a bestseller as customers try to move away from using large amounts of wrapping paper.
Grocery
It's clear that food retailers and shoppers alike have Christmas food on the brain already. Pret a Manager launched its Christmas menu this month for those that missed out on their usual festive sandwich at the office last year.
Traditional foods will take pride of place on the Christmas dinner table as families hope to reunite for the first 'normal' festive season since 2019. Consumers look set to opt for traditional, opulent festive fare that will remind them of previous celebrations.
Tesco's expected bestsellers include a giant Christmas tree-shaped stuffing with a crunchy herb topping, British turkey, Brussels sprouts and Black Forest Christmas pudding.
"Vegetable mains are really taking centre-stage in 2021"

Derek Sarno, Tesco
The grocer will also be expanding its offering to include more plant-based choices to reflect the growing demands of UK consumers.
Tesco director of plant-based innovation Derek Sarno says: "Vegetable mains are really taking centre-stage in 2021, from our Portobello mushroom Wellington to our parsnip parcels with tangy beetroot sauce."
Asda has also expanded its vegan and free-from range to more than 200 products and will present a beefless Wellington for vegetarian guests.
The grocer expects customers to host more celebrations this year and predicts that popular flavours will include blood orange, truffle and salted honey.
Asda will be putting a fresh spin on the usual favourites, including a mince pie with orange-zest pastry and a pork pie with blood-orange jelly from its Extra Special own-brand range.
M&S' Snow Globe gins, which are packaged in a light-up bottle to create a snow-globe effect, will also make a return this Christmas and are expected to be a big hit with shoppers.
Aldi are also celebrating the return of retro dessert favourites this Christmas, including figgy pudding and pavlova tower.
Aldi's party food offerings are bringing some new flavours into UK households this Christmas, with the introduction of chicken sesame pyramids, vegetable wontons and a selection of handmade vegan dim sum. Sharing platters will also prove popular at larger gatherings, with sharing tapas rounds and an Italian and Spanish characuterie board.
Fashion and beauty
Glamour will be making a long-awaited comeback. "The fashion sector will no doubt see an increase as restrictions around socialising are lifted and festive parties and celebrations will boost demand for new outfits," says McCandless.
Flannels head of womenswear elevation Emma Ilori says: "The first festive season out of lockdown, we hope, no one is holding back – people will invest in OTT styles to make sure they turn heads at any occasion."
The fashion retailer's key trends for Christmas include party glam, ski chic, luxe cashmere sets and festive knits, as well as the classic little black dress.
"The first festive season out of lockdown, we hope, no one is holding back – people will invest in OTT styles to make sure they turn heads at any occasion"

Emma Ilori, Flannels
Fashionable accessories will also be more in demand as gifts. Notonthehighstreet predicts that rings and necklaces – particularly those made from recycled gold or silver – will be especially in demand.
However, after a year spent in our tracksuits, loungewear looks set to remain the most popular choice for consumers looking to stay comfortable at home.
Family pyjama sets and novelty jumpers will be on shoppers' Christmas lists, according to Poundland.
Tesco's own F&F brand loungewear collaboration with Mrs Hinch is also set to entice customers.
M&S will be placing an emphasis on sleep following a year of stress, with festive pyjamas already a staple. They will be joined by personalised eye masks, sleep sprays and silk pillowcases.
Boots' Hewitt says: "Wellbeing gifts for sleep, fitness and relaxation are expected to fly off shelves this Christmas, too – whether that's customers giving the gift of self-care or treating themselves instead."
Boots expects beauty gifts to be popular, too, especially those from exclusive brands such as Drunk Elephant, Fenty Skin and Anastasia Beverly Hills.
After a challenging Christmas in 2020 and 18 months of disruption, retailers will be hopeful that this year's festive season can go off with a bang – and that shoppers will be ready to loosen their purse strings and celebrate.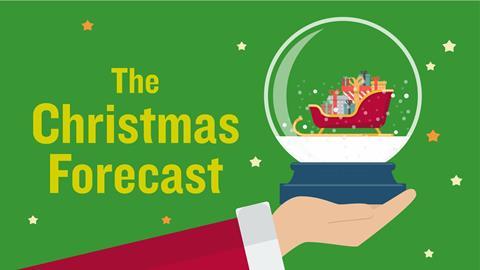 Gain further clarity on what lies ahead this golden quarter by downloading your free copy of The Christmas Forecast
In what is an uncertain time for retail, Retail Week's latest report provides predictions and analysis for total retail sales in the fourth quarter and highlights the sectors that will be in demand.