Responding to declining profits and shoppers fleeing to supermarket and discount rivals, Tesco handed its £110m advertising account in July to agency Wieden + Kennedy to recharge its campaign strategy.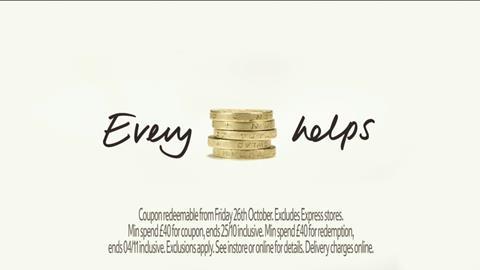 Despite expectations of a radical change of style, the biggest surprise so far has been that Tesco has kept the 20-year-old 'Every Little Helps' strapline.
Reportedly the slogan was under review in June, but clearly the grocer believes that recent investment measures in addition to the new agency's creative will reaffirm the strapline's message that Tesco takes lots of small measures to help shoppers.
The TV advert shows a column of five pound coins disappear one by one as the Thunderbirds theme tune counts down from five. Text on the screen then explains the retailer's £5 off a £40 shop voucher. Clearly Tesco aims not to be caught out again without a coupon offer after it lost out to rivals who offered vouchers last Christmas, but the glut of supermarkets running money-off campaigns could make this offer just one of many in the eyes of consumers.
Yet, Tesco hasn't enlisted W+K for conventional discount adverts; the awarding-winning agency is known for creative curveballs such as its Old Spice YouTube hit The Man Your Man Could Smell Like and Nike's Write the Future.
Tesco chief executive Philip Clarke recently said that there will be a big brand campaign ahead of Christmas and all signs point to that being Tesco's prime push to regain lost ground and help it reconnect with shoppers. The best might still be to come, even if the agency works within the heritage of Tesco's strapline.