Asda's new campaign for the autumn collection of its George clothing offer puts product at the centre of the 30-second TV ad but ultimately fails to get its message across.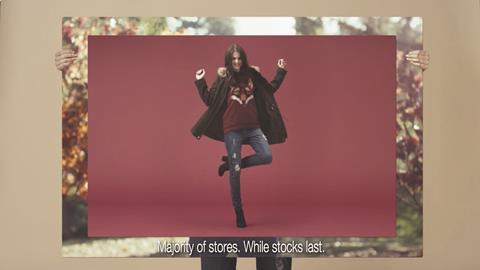 The strapline 'Just add autumn' is not explicit enough to communicate George's message to customers that their style can be updated with one item.
The advert shows a male and female model, as well as children, dancing and posing against a blank studio background of various autumnal colours. The ad's focus is on the retailer's products and it shows off features such as a fox-print image on a red sweatshirt.
The spot prominently displays prices on screen to highlight George's value position. Created by agency Fallon, the TV campaign uses a visual effect in which the models lift up frames that superimpose clothes onto themselves.
The effect adds an item to the models' outfits, such as a leather jacket over a white sweatshirt worn in the previous shot.
The technique is used to offer fashion tips to consumers who want to update outfits for the new season. However, the visual trick is subtle and viewers may not notice a coat being layered on to a model's outfit.
The full George multimedia campaign spans print, outdoor and online, and is a better fit for the tagline. For example, an online ad promoting coats with images and the strapline 'Just add autumn… coats' is much more effective.
Asda's campaign clearly showcases the clothes, but the TV ad fails to communicate the brand's fashion advice to shoppers that they can update their wardrobes for autumn with George's seasonal additions.