Launched 14 years ago, Build-a-Bear Workshop still enjoys healthy success. By Charlotte Hardie.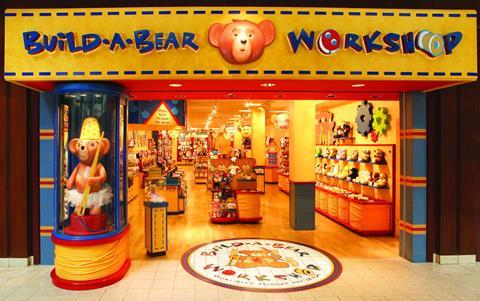 When the first Build-a-Bear Workshop store launched in Missouri one Sunday back in 1997, the queue stretched out of the door. Within days, people started calling about franchise opportunities, and this was all without any marketing or PR budget.
The idea for the business, enabling children to choose, design and name – complete with birth certificate – their own stuffed toy, was borne out of a shopping trip when founder Maxine Clark and her 10-year-old companion Katie couldn't find the toy she wanted.
"She said to me: 'These are so easy, we could make them'. She meant we could do a craft project, but what I heard was so much bigger," says Clark.
Her big dreams came true. 14 years later, Build-a-Bear Workshop has notched up £4bn in sales and has sold 100 million stuffed animals to date. "That's a lot of stuffed animals that are sitting in homes around the world," she points out.
The international success of the business has taken even the chief executive bear – as is stated on her business card – by surprise. She went into retail straight out of college, working in department stores. "I never went looking for it, but I wanted to do something more creative," she says. This is not your average retail business.
What Clark has managed to achieve throughout her now global brand is a sense of fun, entertainment and that often-elusive retail theatre which keeps customers flocking.
This is, without doubt, a brand with an all-American aura about it. "That visit from them is a hug from us," Clark says at one point during the interview.
But who's to quibble? After all, being cute and cuddly is the nature of their game.
Customer service is at the heart of its success. In this sense, the famed and exemplary levels of customer service in the US have translated well in its stores across the Atlantic. "There are so many ways you can do business. The register ringing is one, but it's also the way you build a relationship with the customer. Not everything is about a transaction," says Clark.
"We have to ensure we can give them interaction – whether that's about just giving them stickers for free or if they need a bear re-stuffed, we'll do it for them." She likens it to her experience of shopping at Selfridges before she established Build-a-Bear Workshop: "I used to look at Selfridges when I was over here and see it was bold and entertaining and fun. You didn't have to buy anything. The experience is always enough to keep people coming back, and eventually you'll buy."
Such is the rapport that store staff build with their customers. She jokes that there is an unofficial contest about the employee with the greatest number of stuffed animals named after them by the children who buy them.
After the success of the first store in St Louis, three more followed in rapid succession in Missouri. The state's low-cost airline was Build-a-Bear Workshop's equivalent of their corporate jet, jokes Clark. "Wherever it flew, we would get a store."
UK franchise
In 2003 it launched in the UK as a franchise. The first store was in Meadowhall. In 2006, following the purchase of the Bear Factory from Hamleys, all Bear Factory stores were rebranded to Build-a-Bear Workshop by September of that year. There were 35 Bear Factory stores in most of the premier mall locations in the UK, 32 of which were taken on by Build-a-Bear Workshop.
It now has 58 stores in the UK – last year it opened in Stratford and Leicester – and Clark believes there is potential space here for up to 75. Her hands-on approach to retailing is notable – despite the fact she has a business that spans 20 countries, she personally visited "every shopping centre in the UK" to assess what will work for her UK stores.
Taking a brand that sells stuffed toys to international markets might sound relatively straightforward. How much can the demand for such products vary from one country to another? But it makes a surprising number of changes to its business depending on the market, says Clark.
She explains that in the UK, for instance, children are very fashionable, which has a significant bearing on the type of product it stocks and the clothes with which children can choose to adorn their toys of choice. It also tries to reflect local cultures – in South Africa it stocks a whole collection of African animal toys.
Moreover, children's tastes change quickly. When the company launched there was no Nintendo DS and no iPhone. The brand has had to work hard to sell the experience, and this is a retailer that understands completely the power of online.
On its website, visitors can play online games, organise their very own Build-a-Bear party, download printable certificates (for Father's Day, for example), print out customised thank you cards, or locate lost bears through its Find-A-Bear ID programme. Its army of fans can also play one of its numerous free online games in its 'Bearville' world. Last year alone its visitors notched up 25 million hours of play online, and last Christmas it launched its iPhone app. But the retailer also aims to be responsible and makes its games both educational and a "healing form of play", Clark explains. "We're conscious of the issues of cyber bullying, for example."
Facebook campaign
Last year, Build-a-Bear started a major campaign to recruit more Facebook fans. "You have to work hard on reaching out to the customer," says Clark. She also has a blog which she updates to keep in touch with her fans.
Although any retail brand with a presence on Facebook can claim to have 'fans', the young customers of Build-a-Bear are fans in the truest sense. The retailer may not have any direct competitors, but as Clark points out, you are competing with a whole other ream of activities that parents could choose to do with their children.
The challenge is how to keep those customers coming back and how to ensure they spend time in that store and immerse themselves in the Build-a-Bear world.
Keeping fickle young customers loyal is no mean feat, but Build-a-Bear has managed it. "Lots of things come and go, but stuffed animals will always be cute and cuddly and we're able to reinvent them over and over again," says Clark.
Clark is the definition of an entrepreneur. She has created a business that is masterful at adapting to changing tastes and markets, masterful at brand development and masterful at customer service. Retail sectors could learn a thing or two from the way that this chief executive bear and her global bear team execute the cute and the cuddly.
The bear facts
Build-a-Bear Workshop has notched up £4bn in cumulative sales
It has sold 100 million stuffed animals globally to date
It has online games on its website in its 'Bearville' world. Last year alone its visitors notched up 25 million hours of play online
There are 58 stores in the UK, all of which are company owned
Its first international expansion was in Canada, followed by the UK
It has more than 400 stores worldwide, in 20 countries including Japan, Puerto Rico and Australia
It launched in the UK as a franchise in 2003, and the first store was in Meadowhall. It relaunched as a company-owned UK brand in 2006 following its purchase of the Bear Factory from Hamleys
Recent new store openings include Sunderland last summer at the Bridges shopping centre, Leicester in Highcross shopping centre and Westfield Stratford City in September