Retail is divided on whether Black Friday is good or bad for the industry. Here two retail chief executives make their case.
The case for Black Friday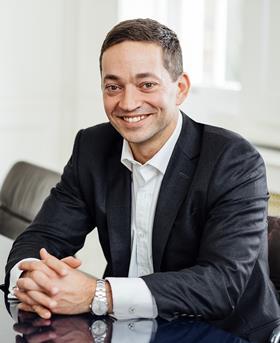 If Black Friday didn't exist, the retail industry wouldn't invent it today.
You can see why. It means heavy discounting at a time when full-price demand was traditionally at its highest in the run-up to Christmas.
Even today, it's not for everyone.
Retailers with rigid full-price strategies dislike the competitive pressure Black Friday creates, while those that focus on offering everyday low prices risk alienating customers by discounting further, and thereby undermining faith in their original price.
But customers won't relinquish Black Friday easily.
We think it's here to stay – and that's fine by us. We like Black Friday.
It fits our customer and trading strategy, it's profitable and we work hard to meet the challenges it creates.
Very.co.uk customers like a deal, and planned, bought-for promotions are a regular feature of our trading calendar.
Black Friday may be unusually big, but it fits well with this approach to trading and it shows in how our customers respond.
Black Friday last year was our biggest sales day on record.
We make money on Black Friday too.
We have excellent relationships with many of the world's biggest brands, and we work with them all year to secure the best Black Friday deals for our customers, while protecting our margins and theirs.
And Black Friday isn't just for Christmas.
It helps us attract large numbers of new customers and drive long-term profits.
Of new credit customers on Black Friday 2015, 70% purchased from us again within 12 months.
Of course operational headaches come with such massive demand, but we work hard to deal with them.
This year, we're holding our event over 19 days to offer customers more deals, increase sales and, importantly, spread demand.
Black Friday is increasingly an online event and all the online retail growth is coming from mobile.
We have excellent relationships with many of the world's biggest brands, and we work with them all year to secure the best Black Friday deals
On Black Friday last year, two thirds of online orders on Very.co.uk came via mobile devices.
We test and develop everything for mobile first, delivering a seamless, inspiring and increasingly personalised user journey and giving our customers the 'thumb-stopping' moments they crave on Black Friday.
We also rigorously test the speed and load capacity of our sites to ensure they can deal with the spike in traffic.
Last year we achieved 100% uptime and are aiming for the same again this time around.
Working closely with our fulfilment partners, we ensure we have the capacity and processes to keep our promises.
Our delivery promises may stretch out a little longer than normal, but we've found customers understanding so long as we tell them and stick to those promises.
Black Friday isn't for everyone, but it's definitely for us.
It fits our approach to trading and we can meet the operational challenges. Above all though, we make money – it's no vanity exercise.
Alex Baldock, group chief executive, Shop Direct
The case against Black Friday

Everyone would argue that healthy competition and giving customers the best value possible is a good thing.
Lazy marketing and cynical pricing is not.
Black Friday is simply a discounting drug in pantomime disguise.
It might be funny, if it wasn't so serious. Let me explain.
Three reasons why Black Friday is bad for customers, bad for business and bad for UK retail.
1. If it looks too good to be true, it probably is
Customers want value for money, not fake prices.
At best, Black Friday prices are being artificially distorted.
At worst, some of the deals and offers are hoodwinking customers.
Customers should be able to trust that the price they pay is the fair and honest price for that product.
This year Fa tFace has introduced a 'Price Promise' that means customers know that the price they pay won't change in the run up to Christmas.
I can't think of anything worse than wrapping your presents and then being sent an email telling you that everything you just labelled and put bows on can now be bought for 20% or 30% less.
And in any case, who wants to receive a discounted Christmas present?
2. Sales is vanity, profit is sanity
When Asda introduced Black Friday to the UK market it sent shivers down the spine of many retail executives.
When they withdrew in 2015, we should all have taken note.
Black Friday simply skews sales patterns between November and December.
It doesn't grow the market. Worse still, it destroys margin.
Anyone can liquidate stock if you sell it cheaply enough, but if you want a sustainable business, you need to generate sustainable' returns that allow you to invest in the future.
3. Nothing is free
Of course there are short-term market share gains to be won by retailers that choose to use Black Friday discounting to grow their business.
Online retailers who are worried about customer confidence in their delivery speed nearer Christmas are also likely to benefit most from bringing sales forward.
But nothing is free.
We all need to think about next year when we discount this year because customers have long memories.
Next year the discount will have to be deeper to get the same result.
Fat Face won't be participating in Black Friday discounts. We never have.
We're running our 'Thanks 4 Giving' campaign again instead.
The good news is that I think this year will more or less see the death of Black Friday on the UK high street anyway
Last year we raised almost £200,000, which was donated locally to over 200 charities.
Instead of discounting we are donating a percentage of our profits generated over Black Friday weekend.
You might be interested to know that this is also our approach in the US itself, where we have opened four stores this year.
The good news is that I think this year will more or less see the death of Black Friday on the UK high street anyway.
I'm sure that the online operators will keep plugging away, but frankly customers are too smart to let this madness continue.
Customers want transparency and simple, honest pricing.
They also want a more vibrant, differentiated high street that captures their imagination again.
So why don't we change the agenda for 2017.
Less talk about discounting and Black Friday and more action that encourages great design, service, quality, value, innovation and trust.
Then customers will be happy to pay the prices charged because they understand real value for money better than all of us.
Anthony Thompson, chief executive, Fat Face