Black Friday has transformed UK retail in the run-up to Christmas in recent years.
This year's promotional extravaganza is expected to deliver a 3.1% sales rise, with sales of £10.4bn predicted between Monday November 19 and Monday November 26 – Cyber Monday, according to GlobalData.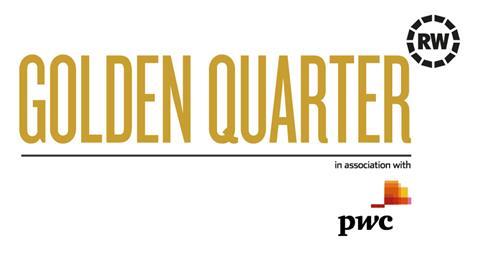 Young shoppers are expected to be big spenders this Black Friday. According to PwC consumer data, 37% of 18-24 year-olds said they plan to spend more this Black Friday, compared with 21% of all shoppers.
The PwC data showed electricals is the category consumers expect to spend the most on, followed by fashion then stocking fillers.
One big difference this year is the event occurs before many people will have been paid, though the higher forecasts indicate consumers will still splash out.
The extended promotional period that has been increasingly adopted in previous years – partly to smooth the logistical challenges of the event for retailers – is also likely to help, with hard-pressed shoppers able to snap up deals before their monthly salary dwindles.
Retailers are also deploying other ways of generating spend. JD Sports, for instance, is encouraging its shoppers to use 'pay later' service Klarna.
Asda makes Black Friday U-turn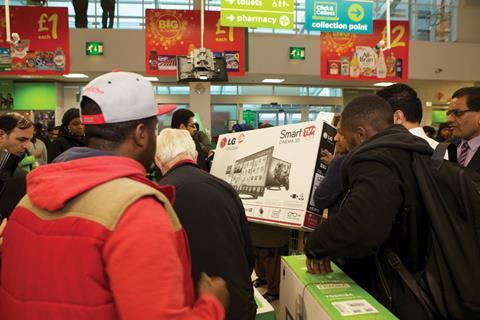 Some retailers are returning to the promotional fold, having previously scaled back activity.
Asda, which abandoned Black Friday after chaotic in-store scenes in 2014, is running an extended event called 'Green Is The New Black'. It began last Tuesday and runs for a few weeks.
Dixons Carphone has introduced new promotions to extend the selling opportunity. Carphone Warehouse's Black Tag and Currys PC World's Why Wait promotions went live last week and offer guaranteed prices, so if the price changes on Black Friday, customers will be refunded the difference.
It means customers are less likely to put off buying in the hope of a greater discount on Black Friday.
While it may prompt a sales injection, Black Friday still divides retailer opinion in the UK. Some are happy to seize the opportunities it presents in tough trading conditions, but others see it as a margin dilutive mistake.
However, other big names have opted out. M&S – which pulled out of Black Friday in 2017 – has maintained its stance, while DIY giant B&Q has also retreated from the discounting extravaganza.
M&S chief executive Steve Rowe said full-scale, category-led discounting is "not what we believe".
He maintained: "We are making sure those discounts get passed on to our customers through lower prices all year round.
"We began in clothing two years ago, we have lowered another thousand prices this year."
B&Q is also emphasising its everyday low prices stance, following a £100m investment in lower prices in July. The retailer said research it had commissioned indicated that consumers trust retailers that offer low prices throughout the year more than those running frequent sales.
But many retailers remain committed to Black Friday.
Electricals specialist A0.com chief executive Steve Caunce said Black Friday is only going to get bigger thanks to wider consumer awareness.
"If you add the whole thing up, the peak period is going to be huge," he said.
However, Caunce believes that shoppers are waiting for Black Friday, creating a sales vacuum in the run-up to the discounting event.
"More people are educated now that [Black Friday] is happening. I had a friend the other day who sent me a text saying 'I'm thinking of buying a fridge freezer and a TV, when should I buy it?'. That means, in his head, he's thinking: 'I should be waiting'.
"What we've got to do is make it last a long time. We've got a logistics business that needs to spread its load around and spread the peak period around a bit.
"But my gut feeling is that the lull that you get before Black Friday has been deeper this year than it has been, and the peak you are going to get during it will be higher.
"We don't enter the debate of whether we like it or not because there's not a lot we can do about it. If the customer likes it, we have to get involved."
Debenhams is running a Black Friday Spectacular, featuring 12 days of deals running through to December 2.
The struggling department store chain aims to encourage a "party atmosphere" in stores, extended opening hours, exclusive products and at least 70 new pop-ups, including a gin bar and food outlets.
Online giant Amazon, the main driver of Black Friday in the UK, has ramped up its deals this year. Its Black Friday Sale spans 10 days – starting today – and will include a dedicated pop-up shop in London's Shoreditch that opens next Thursday.
'It doesn't make sense'
As the discounting frenzy kicks off, veteran retail adviser Richard Hyman condemned the "lemming-like" adoption of Black Friday by UK retailers.
"I cannot think of one good thing about it," he said.
"The timing is bad. It comes when most retailers want to promote their Christmas offers. Black Friday draws Christmas spend forwards and does it at a lower margin, it dilutes your brand integrity, and it dilutes trust in your pricing. People are starting to realise it's quite damaging and it is difficult to wean yourself off the drug."
"30% of total Christmas gifts are expected to be purchased across Black Friday and Cyber Monday"
GlobalData analyst Zoe Mills said Black Friday has a big impact on the timing of purchases over the fourth quarter.
Of 2,000 UK shoppers surveyed earlier this month, 39.9% said they intended to purchase an item on promotion during the discounting period. Of those shoppers, 55.8% were delaying a purchase to benefit from anticipated reduced prices.
She said: "It highlights how Black Friday is encouraging shoppers to hold back buying full-price items and purchasing during other discounting periods prior to the event as shoppers predict that retailers will drop prices even further during Black Friday, heavily impacting retailer sales in the weeks prior to the event."
According to the PwC study, promotions will cannibalise full-priced Christmas present purchases to a limited extent, with 30% of total Christmas gifts expected to be purchased across Black Friday and Cyber Monday.
Logistical headaches
As well as questions over sales displacement and margins, Black Friday can create operational and logistics headaches for retailers.
Manu Tyagi, an associate partner for retail at Infosys Consulting, said: "Many stores struggle with getting their stocking, tagging and staff availability right on Black Friday, to cope with the higher footfall and the logistical support for online deliveries.
"Last year, we welcomed 850,000 shoppers to Westfield centres over the Black Friday sales weekend"

Myf Ryan, Unibail-Rodamco-Westfield
"Retailers are beginning to advertise promotions and discounts over a much longer period in a more sustainable manner, to avoid huge crowds in-store or websites crashing."
But stores will be popular destinations during the promotion.
Myf Ryan, chief marketing officer, Europe and group director of brand and strategic marketing for Unibail-Rodamco-Westfield, said: "Black Friday now signals the start of the Christmas shopping period and has transformed from a one-day moment in time into a full weekend of offers.
"Last year, we welcomed 850,000 shoppers to Westfield centres over the Black Friday sales weekend, and we expect strong footfall this Black Friday."
Love it or loathe it, Black Friday looks like it is here to stay.
Retail Week is having its very own Black Friday. We've rolled back the price on retailer tickets for Retail Week Live to the launch rate of £999 if you book between Thursday 22 and Tuesday 27 November. Book here.
For critical insights on how consumers intend to shop over the Christmas period, download our The Christmas Consumer 2018 report.
We help you get inside the mind of the shopper, providing you with in-depth data and analysis on:
How much UK consumers will spend and which demographics you should target.
How they will spend and the channels they will use.
Whether in-store tech is important.
Why getting delivery right is crucial.
Download The Christmas Consumer 2018.