Some fashion retailers are mixing things up and turning to retail parks for store growth. Is this a trend that will increase? Rebecca Thomson examines the shift and asks if it will last.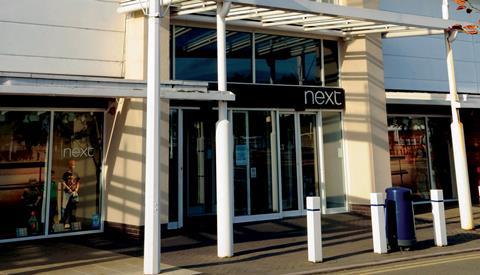 Traditionally, retail parks have been the domain of bulky goods retailers, but over the last five years the out-of-town mix has shifted. Today, you're as likely to see a Next as a Carpetright, and other fashion retailers are keen to follow.
"There's a lack of shopping centre and high street development in the pipeline and that's going to be continuing for the next two to three years," says Lawrence Earnshaw, senior director of out-of-town retail at property agency CBRE. "But retailers still want to grow, so they're seeing retail warehousing as a way of getting more space."
Spaces left by big out-of-town players such as MFI and Allied Carpets going into administration mean landlords are keen to get other chains in, and the difficulties many fashion retailers are facing on the high street mean more of them are looking to do so. Next was the first fashion retailer to try the format, with its first out-of-town store opening in 1989. It now has 218 retail park stores across the country. Since then, Arcadia, New Look and Peacocks have gone into out-of-town retailing, and last year H&M embarked on an out-of-town push. Primark, too, is likely to open its first out-of-town store in 2012, according to retail and property analysts Trevor Wood Associates.
Shift in style
There are several reasons behind fashion retailers' out-of-town push – convenience for shoppers and a desire to expand among them – but the recent pace of change hasn't been quite as fast as might be expected. While fashion retailers are no doubt keen to get on to retail parks, some say rents are no longer as cheap as they once were and there has been little movement from fashion retailers in terms of new out-of-town store openings in the past couple of years.
"Rents on most of the best parks have got to a level where they're actually not that competitive," says Richard Allsop, partner at property agency Morgan Williams. "The market is very tough at the moment." While fashion retailers were keen to try the retail park format up until about 2008, Allsop says the amount of activity has dulled since then as rents have crept up. "There's relatively limited availability of space at the moment," he says. This in turn means prices are unlikely to fall any time soon.
But over the longer term, the format would appear to work for fashion retailers Retail parks attract a different customer from the more leisurely shopper on the high street, and they tie neatly into the web's business model. "They're very convenient," says Earnshaw. "Shoppers can be in and out very quickly." And it's perhaps no coincidence that Next, with its big retail park estate, is currently on a push to highlight its click-and-collect credentials. "Retail parks are very well positioned to accommodate multimedia in-store – particularly around the click-and-collect aspect."
This convenience aspect of retail parks has served fashion retailers very well, and the environment of retail parks often reflects this element of the experience. "You don't necessarily go for a nice browse around a retail park. You go for a particular reason," says Kantar Retail director of retail insights Bryan Roberts.
But in the fashion sector, it's important to get a balance – it's not enough for something to be convenient if it's an environment that doesn't encourage spending. Traditionally, retail parks haven't needed to entice shoppers in the way that highly competitive fashion retailers need to, and the fashion sector has had to take a fairly hard line on how the parks are presented. In many cases, it boils down to retail park landlords needing to spend money. Andrew Collier, partner for out-of-town retail at agency Cushman & Wakefield, says: "Sales turnovers are higher [in fashion] so landlords have been willing to spend money on refurbishments. Landlords are becoming more intellectual about it, and starting to focus more on how to increase dwell time, for instance, and improving amenities and facilities."
The specific requirements of fashion retailers means they have tended to bunch together on parks where the aesthetics suit them, and parks such as Banbury Cross in Oxfordshire, where money has been spent, have benefited. Many parks still have Next as their only fashion representative, and under the current economic conditions this doesn't look set to change in the near future.
Filling the space
Fashion retailers themselves have evolved too, making their businesses better suited than they used to be to retail parks. Their store formats don't need to change drastically to work in big-box environments, but over the past few years their ranges have expanded to fill the space.
"What fashion retailers have struggled with in the past is having a wide enough range to use the space effectively," says Roberts. "As their ranges have expanded it makes sense to have bigger stores." But with traditional high street retailers embracing new environments, what does this mean for the high street? As usual, it's bad news for smaller town centres – if a retailer's entire range can be showcased in a couple of big, out-of-town stores, there remains little need for the current network of smaller stores.
"In many cases high street stores are quite small," says Earnshaw. "With out-of-town they can offer the full range and get a higher number of customer visits because they've got a bigger offer."
But Simon Moscow, head of retail warehousing at fund manager Aberdeen Asset Management, says there will always be a role for some high street stores. "It's not a blanket problem across the high street. There are still some very strong town centres."
And if retail parks want to appeal to the entire fashion sector, they still have a bit of work to do. At the moment, the offer works best for middle market retailers – more aspirational brands, and brands such as Superdry, have so far steered clear of them.
Even with the challenges the downturn presents, retail parks still hold great opportunities for fashion retailers battered by high street rents and recession-hit footfall. But with the bulky goods legacy that many out-of-town locations have, there are a few hurdles to leap before fashion retailers get everything they can out of the parks.
The fashion retailers moving out of town
Next is the biggest fashion out-of-town player with 218 stores, the equivalent of 2.89 million sq ft
Marks & Spencer, while not a pure fashion retailer, has 1.65 million sq ft
Arcadia has two fascias represented in out-of-town parks – its Burton and Dorothy Perkins stores have 290,000 sq ft, and its Outfit stores, which house all the Arcadia brands, have 640,000 sq ft
New Look increased its number of out-of-town stores dramatically from 2004, and now has 640,000 sq ft
Primark is likely to open its first out-of-town store in the MK1 park in Milton Keynes in 2012
After announcing an out-of-town push in 2010, H&M now has 110,000 sq ft of space
TK Maxx has 2.05 million sq ft, while Peacocks has opened 520,000 sq ft of space. Laura Ashley meanwhile accounts for 230,000 sq ft
Source: Trevor Wood Associates