Polarisation remains the theme for retail parks, as prime rents hold up and secondary rents are on a downward trajectory, finds Mark Faithfull.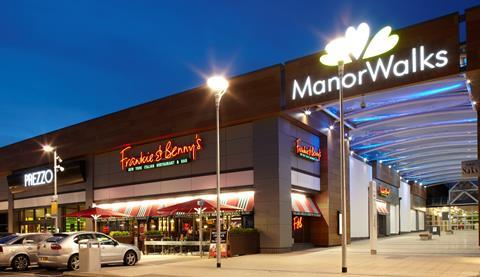 Out-of-town retail parks have transformed over the past decade, as traditional bulky goods and furniture retailers are now rubbing shoulders with a broad spectrum of fashion, leisure and lifestyle brands, as well as value operators.
Darling of them all is Leicester's 416,536 sq ft Fosse Shopping Park, which The Definitive Guide to Retail & Leisure Parks, published by retail researcher Trevor Wood Associates, cites as number-one nationally for the rents it can command. It achieved a £105 per sq ft headline rent on a letting to footwear retailer Clarks in 2008.
Since the downturn, prime locations have thrived while the problems of struggling developments have been exacerbated. Matthew Thompson, senior retail analyst for Colliers International, says: "Since the onset of the recession, rental value growth within retail warehousing has fared strongest compared with growth in the retail sector as a whole and against shopping centres.
"Demand for space in out-of-town locations remains strongest as a number of retail and leisure operators target these locations, which can deliver the space and format requirements and a stronger proposition for consumers."
Because of that, prime rents are holding up and will continue to do so, says Karl Norman, senior director of out-of-town retail for property adviser CBRE. "Secondary and tertiary rents have fallen and will take time to recover, but demand is the driver and as this improves, so will rents," he adds. "There will be some tertiary schemes where alternative uses such as leisure or food are the best option due to the lack of retail demand."
Johnny Rowland, director of out-of-town retail warehousing for property management firm Savills, says the spread in rental performance reflects this polarisation. He says depending on location, prime open A1 non-food rental ranges are between 10% down and 5% up this year, while prime bulky rental ranges are between 15% down and 5% up.
However, for secondary open A1 non-food the rental range is 10% to 25% down and for secondary bulky rental the range is 15% to 50% down. He believes rents will continue to fall in the short to medium term.
"For more traditional, large-format parks, retailer failures have created voids which have been taken by discount retailers," adds Norman. "Depending on the quality of the scheme and existing retailers already trading, other more traditional retail warehouse occupiers such as Brantano, Pets at Home, Maplin and Hobbycraft are also taking space," he adds.
"In addition, more leisure operators are focusing on these schemes, such as drive-thru coffee outlets for Costa and Starbucks, gyms and family dining such as Pizza Express and Nando's, because of the increased footfall these new retailers are bringing."
Rowland agrees, and points out that after the Comet and Dreams administrations, the remaining traditional bulky goods tenants have mature portfolios and have benefited from rationalisation. "There are a handful of growing retailers but the traditional names are not in acquisition mode. Some retailers are rationalising their stores - downsizing as well as exiting poor performers - and lease expiries are allowing retailers to rebase their rents where there is limited demand," he says.
As traditional out-of-town bulky goods retailers rationalise their portfolios, the out-of-town market is likely to see a reduction in the number of stores occupied. This will "increase supply and maintain the pressure on rental levels", according to Mark Rudman, director of Jones Lang LaSalle's out-of-town retail and leisure team. "Retailers will increasingly focus in the busiest locations, widening the gap between prime and secondary," he adds.