Claire's Accessories will be seeking a strong Christmas sales performance after a tough year.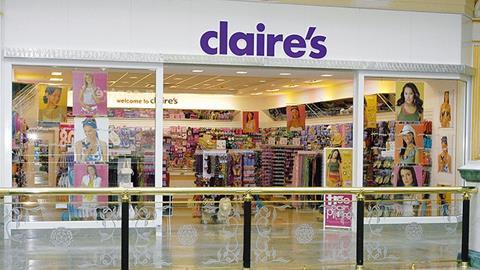 US-owned Claire's endured a 7.2% sales fall to £128.5m in the UK and Ireland for the year to January 28, 2012, because of the difficult trading environment brought about by depressed consumer sentiment, accounts recently filed to Companies House showed.
During the year, the retailer made a £719,000 pre-tax loss in the UK, Ireland and in elements of its European operations.
Claire's value-led fashion accessories, ranging from earrings and necklaces to hair bows and purses, have been stocking-filler favourites for teenage girls since it entered the UK in 1996. The retailer instantly gained scale in this country with the acquisition of 48 Bow Bangles stores out of administration.
The retailer used that base as a foundation for solid growth across the UK, both on the high street and in shopping centres.
By 2010 it had 465 stores. However, faced with a poor spending climate and a saturated market, the UK and Republic of Ireland has ceased to be a priority for store expansion and the company has since reduced its portfolio by 14 stores.
The retailer has shifted its strategy to focus on growth in other international markets, where it aims to add to its 1,118 strong European portfolio. The retailer increased focus on its European arm in 2007 when, following a slowdown in trading in the mid-2000s, it was bought by private equity group Apollo Management Inc for $3.1bn (£1.92bn).
Claire's has enjoyed strong growth in Europe and will bring its Icing fascia, which sells products for 19 to 27-year-olds at higher price points than the Claire's proposition, to the continent next year. The retailer will open 130 stores in 2012 mainly in France, Germany, Spain and Eastern Europe.
The retailer also intends to build on its network of about 2,000 stores in North America as well as its 400 franchise stores across the Middle East.
The original business was founded as Fashion Tress in the 1950s by Rowland Schaefer and went public in 1961. The company bought Claire's Boutiques, a 60-strong chain in the Chicago area, in 1973, and changed the group name to Claire's Boutiques Inc in 1983. By that time it had divested its original wig and accessories manufacturing operations.
The company then began a restructuring process to maximise potential in Europe. This led to the consolidation and integration of its European management teams and Claire's extended its former UK office in Birmingham as it became the European headquarters for the business.
The process shifted the responsibilities for some key activities. European buying is now directed from the UK, rather than the US, headed by former UK head of buying Melanie Berry who rejoined in 2008 after a three-year stint at WHSmith.
She was enticed back by former Bow Bangles' owner Mark Smith who had returned to the retailer in an advisory role following his departure in 2002.
Smith originally resigned just a year after the acquisition of the six-store Girl Heaven chain – aimed at two to 10-year-olds – out of administration. The retailer had originally planned to expand the chain but growth never materialised and the business is no longer operational.
According to the Retail Week Knowledge Bank, in order to continue its ambitious expansion overseas, Claire's will need to tackle its high levels of debt. They sat at $2.4bn (£1.49bn) at the end of 2011/12, and could affect the group's ability to raise additional capital to fund operations.
Claire's faces a tough year ahead as the focus remains on stemming losses and more store closures. The retailer aims to enhance the relevance of merchandise to customers, focus on fashion-led products and improve the quality and consistency of its stores.
It will also aim to build its multichannel business following the launch of its website last year and increase its social media presence.
Claire's will hope it can engage with shoppers, reduce losses and improve ranges to get its UK and Europe arm.
Who's in charge
Chief executive James Fielding
European president Beatrice Lafon
European expansion director David Rostron