Retail campaigns often focus on women, but changes in shopping habits and society may mean a new approach is needed.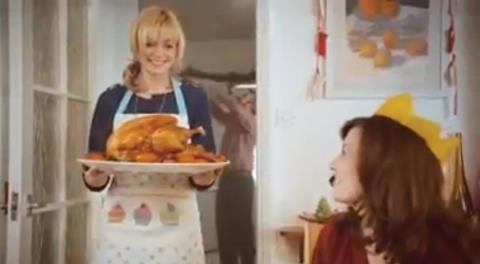 The world of retail advertising appears to be a simple one. For most of the UK's biggest retailers, it's women they want to target – from Boots to Asda and Iceland, the focus has always been resolutely female.
But this approach has landed grocer Asda in hot water this year as some branded its Christmas ad, which focuses on the role mums play in the festive period, as sexist.
Targeting women has made sense historically. Women have taken the helm when it comes to most major purchasing decisions in the home, and they are assumed by many to be by far the greatest consumers of health and beauty products. Even in the traditionally male arenas of DIY and technology, retailers such as B&Q and Dixons have worked hard in the past few years to make their messaging more female-friendly to reflect growing numbers of DIY- and gadget-loving women.
But while this laser focus on female shoppers might be right for some, many retailers could be missing a trick. Figures from Verdict Research show men make up a far higher proportion of the market than advertising would suggest – in particular, 43.7% of grocery shoppers are male.
The debate surrounding Asda's Christmas advert this year has thrust the role of male shoppers into the spotlight. Should retailers make their marketing less focused on women and more gender neutral, or do they know exactly what they are doing?
While it is true that the proportion of male and female shoppers will differ at each retailer, Veb Anand, director of strategy at marketing agency The Brand Union, which works with Argos and Levi's, maintains things need to change. He says: "Traditionally, research has suggested women shop for their partners, and this is changing. Men shop for themselves a lot now, and attitudinally there's been a huge shift.
"Men think about the way they dress, their personal care, they take a lot more responsibility in the home. There's a shift which acknowledges men as decision-makers."
Asda has poured investment into researching its market – its Mumdex initiative regularly quizzes about 5,000 mums on various topics – and it says 80% of its customers are mums, justifying its marketing emphasis.
Chief executive Andy Clarke says that while the grocer did not intend to offend with its Christmas campaign, the majority of people who shop at its stores are mums and most think that the campaign is "a pretty good reflection of how the pace of Christmas can take over when there's lots to do in a busy household".
Stuck in the now
However, not all retailers have foolproof research processes, says Manlio Minale, senior strategist at branding agency Wolff Olins, which works with Target and Adidas. Some are too focused on the minutiae of how things look now, rather than how they are changing.
"The way they research this market is quite one-dimensional," he says. "They're not realising the connections between women and the family. It's dynamic, rather than everything being focused on one person. More progressive companies look at ethnographic research, and how people's behaviours are changing. They try to reflect what is happening and what will happen, rather than build on historical data."
Forward-facing brands increasingly come out on top, Minale says – he highlights maternity and baby specialist Mamas & Papas as getting the pitch about right, as well as Ikea and US department store group JC Penney.
Male markets
It is not just grocery where men make up more of the market than might be expected. In personal care, male shoppers comprise 38.2% of the market and in fashion 44.8%.
Traditional gender divides are being flouted in every category. In DIY, for instance, where previously there would have been a pronounced male dominance, men account for 58.7% of the market and women a significant 41.3%. Market leader B&Q has tweaked its advertising to reflect women's growing role in the DIY category, and it is possible others will need to follow suit and adapt their messaging to a new environment.
Nick Jefferson, president of digital marketing agency Gyro, which works with brands including Virgin Atlantic, L'Oréal and Audi, says more retailers need to move away from "lazy" stereotyping that ascribes rigid roles to men and women.
He says: "Men are doing much more shopping than in the past. Retailers need to understand that and respond. A lot of retail advertising, whether it's aimed at men or women, deals in very lazy clichés."
Instead, he argues, brands should focus more on producing advertising that speaks to everyone, rather than just women or men. "My point is less about gender neutrality and more about speaking to people in a humanly relevant way," he says. "It's about making sure people feel connected to brands. That's not really a gender issue."
For others, however, it's less about the high-level messages and more about segmentation and targeting individual adverts at specific parts of the audience.
Ben Hayman, managing director of co-creation agency Promise, which brings customers and businesses together to foster creative ideas, and works with retailers including Boots and John Lewis, says clever use of data will be the future of retail advertising.
He says: "What retailers have done brilliantly over the past 10 years is gather real intelligence on customers. The danger is it's too broad brush. There's a huge variety of different shopping types. I think what will happen in future is that retailers will get much cleverer in their targeting." He observes that as men become more involved in housework and shopping, typical gender roles are changing. At the moment, broad assertions are made about mums and dads, but Hayman predicts this will change. "Instead, retailers will start to target specific audiences. They've got so much information about the way we live our lives," he says.
Jefferson at Gyro agrees that it is impossible to pigeonhole large swathes of people into two gender-determined groups, and that advertising that either transcendsgender, or which acknowledges it is just one aspect of a person, will do well in the future.
"Not all mums are the same," he says. "Nothing annoys my wife more than when Mumsnet tries to speak on her behalf. It's highly patronising."
He adds that more work needs to be done on segmentation of male consumers, something that is already a little more developed on the female side.
Hayman, however, argues that in some instances the stereotypes are justified. When it comes to Christmas advertising, for instance, it is time to wheel out the big guns and grab as much attention as possible – and he is confident mums do take on a central role at Christmas.
He says: "Particularly around Christmas, the focus on mums is appropriate. Mums become the lynchpin. Whether she's doing the shopping or not, she's the director of the experience."
But, in general, according to Wolff Olins' Minale, families are changing dramatically. There are more single-parent and single-sex families than ever before – not to mention the increasing numbers of single-person households. "The nuclear family of a woman who looks after the children and does the housework is changing dramatically," he says. "It doesn't really exist anymore."
He adds that pushing such stereotypes could start to affect a brand's image. "It patronises men as well," he claims. "In general, men and women share the family roles much more now. Positioning mum as this person who does everything and looks after the inadequate man turns off male shoppers.
"Retailers need to have more progressive views on women and what constitutes a modern-day family."
It is getting easier to reflect the growing complexity of family life because shopping is getting more complex. Hugh Boyle, global digital director at Ogilvy Action, says men in particular engage with omnichannel shopping.
He says men respond well to services such as apps and online grocery shopping, and he highlights Tesco's recent run of ads, starring actors Fay Ripley and Mark Addy, as a good example of how things could be done. One ad focuses on Tesco's scan-and-shop app and features the husband and wife both using the service.
"We still have brands who say we don't want to talk about digital because we want to target mums," Boyle says. But retailers should target all their shoppers, he says, and mums are often au fait with digital technology anyway.
Even if retailers are convinced of their audience and what it responds well to, it is still wise to keep one eye on trends. Shopper behaviour can change in the apparent blink of an eye – men's and women's roles have evolved and will continue to do so.
Minale says advertising that depicts a more modern family will appear forward-thinking and will grab attention by doing something different.
He says: "Retail is a very competitive space. Pretty much everyone's doing the same, so it's a very good way of getting ahead."
Retailers such as Asda may be convinced of the importance of mums, but as families and women's role in society change, so might marketing emphasis among retailers. But male shoppers are crucial – those who include men in their messaging are increasingly likely to be those in tune with their audience.
Retailers' advertising focus
Female focus:
Boots: Traditionally, Boots has focused on female shoppers. However, this Christmas it has dropped its 'Here Come The Girls' ads, choosing instead to emphasise the wide range of people who shop at the retailer.
In an interesting twist, it uses real-life families.
Asda: The grocer says 80% of its shoppers are mums. Its adverts are heavily targeted at them as a result, featuring mothers almost exclusively – dads are rarely included. Its Christmas ad this year has attracted negative attention after accusations of sexism, which the grocer has refuted.
Morrisons: After a few celebrity-heavy years that featured everyone from Freddie Flintoff to Denise Van Outen, Morrisons' theme is similar to Asda's this Christmas. The grocer's ad highlights mums' role in the festive season, a step away from its previous advertising campaigns.
Iceland: The frozen food retailer has a heavy focus on mums in its advertising – even its long-running tagline, 'That's why mums go to Iceland', emphasises that. Ads tend to feature celebrities likely to appeal to Iceland's demographic, and have included Jason Donovan and Kerry Katona.
Gender neutral:
John Lewis: While arguably aimed resolutely at Middle England mothers, John Lewis' ads don't use gender stereotyping to sell. The department store group's last few ads have been more creative, and they focus on tugging at the heart strings rather than attempting real-life representations.
Tesco: The grocer has used main female characters in its ads, and has featured Amanda Holden, Jane Horrocks and Prunella Scales in the past. But its most recent ad campaign has been more couple-focused, featuring Fay Ripley as the wife and Mark Addy as the husband.
Sainsbury's: The grocer features the whole family in its ads, and has emphasised the role of dads. Other ads this year have included one about two young boys and their adventures over the summer, and its long-running partnership with Jamie Oliver, which ended last year, had a family focus.
B&Q: DIY was previously a male domain, but B&Q has decided to go after female shoppers, which make up more of the DIY market than might have been expected 10 years ago. This year, it switched the focus of its ads, reflecting the role women play in home improvement projects.