The boom in smartphones has given rise to new forms of marketing. Jennifer Whitehead assesses how retailers and brands are using apps to target customers.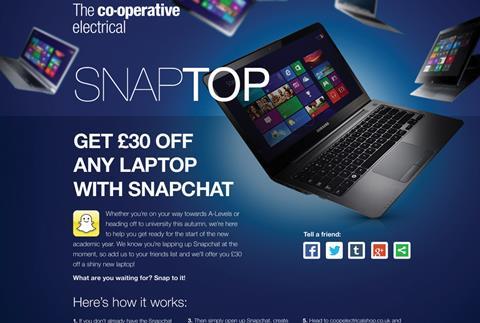 New social network platforms such as Snapchat and Vine tend to burst onto the scene with much fanfare and
breathless excitement from tech providers, who claim they will change people's lives.
But while teens and students quickly adopt them, many others are often left asking 'yes, but what is it for?' - forgetting, perhaps, that they probably said the same thing about several pieces of technology and applications that are now used on a daily basis.
It would be easy to dismiss these apps as fads, but the reality is that smartphone campaigns are going to become an increasingly important part of retailers' marketing strategies.
Why? Because 53% of people are already smartphone owners, according to Ipsos MediaCT's Tech Tracker. This rises to 79% of men aged between 15 and 25 and 77% of women in the same age group. By 2016, it is forecast that
three-quarters of UK mobile devices will be smartphones, according to Portio Research.
And accessing social networks is one of the things people do the most, with 51% of smartphone owners visiting at least one social network.
Pete Jackson, a senior planner at digital agency Holler, says new services such as video sharing app Vine are here to stay. "This is not about novelty. This is about targeting a specific audience using a platform they love," he says.
Holler worked with Co-operative Electrical on its groundbreaking campaign using Snapchat. Aimed at students and called 'Snaptop', the campaign offered a £30 discount on the Co-operative's range of laptops. As students prepared for the start of term in September and October, they could add the Co-operative Electrical as a friend on Snapchat. The Co-operative then sent them a snap of a laptop and a promotional code - but they had to be quick and grab the code before it self-destructed.
Target audiences
Gail Lyon, social media lead at the Co-operative, says Snapchat was chosen for the campaign because it reached a younger demographic.
"Looking at the huge growth of Snapchat and the age profile of its users, we concluded that this was the perfect platform to engage with our target audience," says Lyon. "The campaign was timed to launch when students would be looking for new laptops and was developed to reach a specific audience using a platform they love and offering them something they need."
The campaign finished on October 4 so the Co-operative is still evaluating the impact, but Lyon says it has exceeded its objective of driving traffic to a dedicated website, Snaptop.co.uk. The campaign has also built an audience that could be targeted in future promotions.
"We weren't sure if we would be 'de-buddied' straight away after we released the discount code," says Lyon. "However, this hasn't been the case and we are now considering how to further engage appropriately with our new buddies."
Fast-moving consumer goods brands have also made use of these platforms. Unilever's Lynx deodorant used Snapchat as part of a recent campaign. It invited fans to sign up over a 48-hour period, before leaking exclusive photographs from a summer event hosted by presenter and model Charlie Webster.
Vikki Morgan, head of community at digital agency TMW, which organised the campaign, says: "As part of our work with Lynx, our goal is to be seen in the places that Lynx fans are. It makes way more sense to go to them than force them to come to us."
Vine has been used with some success by brands in recent marketing efforts. Two notable campaigns have been by NatWest and John Lewis Insurance.
NatWest has used Vine a couple of different ways. One part of its campaign was to create a series of short films that answered 20 questions that were most commonly addressed to the bank's Twitter feed. It might sound complex but Joseph Sikorsky, head of digital media at NatWest, explains that answering questions "might take two or three traditional tweets… but with Vine we can give a really clear and simplified journey of what customers need to do".
A second element of its Vine activity targeted students who might be moving out of home for the first time. NatWest created a series of survival tip videos on everything from beauty to cooking and cleaning, using the hashtag #Uniproof, which tied in with a wider marketing effort.
Test and learn
John Lewis Insurance took a completely different approach in its Vine campaign, working with digital specialists Steak and 360i London to create a microsite that complemented a major television push. Visitors to the site were asked to take part in a competition with a £1,000 prize. They had to make six-second, stop-motion films with the hashtag #WhatMattersMost - the strapline from the TV advertising.
The results reflect how effective this sort of initiative can be. John Lewis received hundreds of films made with a surprising amount of care. Keith Bibby, head of marketing at John Lewis Insurance, says the approach helped to "drive levels of engagement that you would not typically experience as a mainstream financial service brand".
Lyon adds: "Campaigns such as this are enormously important, providing they align with your strategy and have a clear purpose. You have got to know what you want to achieve and evaluate this. We are still learning by investigating how new channels can work for our businesses."
And Morgan says experimenting is important. "A test and learn approach is absolutely vital when you're trying to do social properly, because it's ever-changing, and unless you're prepared to be agile and change with it you'll end up failing," she says.
Jackson has some advice about using smartphone apps just for the sake of being new.
"If you want to use flavour of the month apps such as Vine or Snapchat, the Indiana Jones-style booby trap you must avoid is the assumption that people will care enough to jump through your hoops," he says.
Mobile users only have time for micro moments of compelling entertainment. So don't ask too much of them.
Apps with appeal
Snapchat is a social networking app that allows users to send each other photographs and chat via images instead of words. The catch is that a sent image self-deletes after a maximum of 10 seconds on being viewed. It has developed a large, young user base since it first appeared in September 2011, and is available on iPhones and Android handsets.
Vine lets people create short videos - up to six seconds long - on their smartphones, and share them on other social networks as well as on Vine. Owned by Twitter, it uses many of the same features. Users can follow each other, 'like' and comment on other people's videos as well as 're-vine' them. It's available on iPhones, Windows phones, Android handsets and Blackberries. It quickly became the most downloaded app in Apple's App Store when it was released in January.
And if you really want to get ahead of the game, what is newer than Snapchat or Vine? Mark Malone, group head of social at Karma Communications Group, says: "Pheed is an interesting platform that has a strong lean towards the younger demographics. It has essentially taken all the best parts of Instagram, Vine and Facebook and packaged them into one app. Circle is another that brands haven't cracked yet. The 'local network' seems ideal for smaller businesses, but we've yet to see how brands will approach it."