Out-of-town retail parks are thriving as acquisitive retailers take on the spaces made vacant by previous tenants. Laura Heywood finds out why big-box retailing is back in fashion.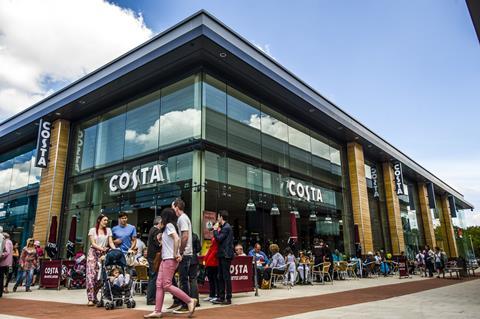 The old adage that one man's loss is another man's gain is certainly applicable to out-of-town retail parks.
In the past few years, household names including MFI, Focus DIY, Comet and JJB Sports have disappeared from the UK's retail parks, but scores of opportunity-hungry retailers have been waiting in the wings. Visit any out-of-town park in the UK and retailers such as B&M, Wren Kitchens, Pets at Home, Poundland, JYSK, Oak Furniture Land and Home Bargains are likely to be among the names that greet you.
Such retailers were quick to act two years ago when numerous administrations, receiverships and declining confidence among some retailers led to an explosion in available space. As soon as the units became available, the race to recycle the second-hand space was on.
Among the biggest winners is B&M, which has been most prolific in taking up space in 2013. According to figures released by property research firm Trevor Wood Associates, the retail chain is the fastest growing retail park tenant, taking 640,000 sq ft in 2012 and 2013, a 56% increase in area since 2011. The discount retailer emerged as the leading acquisitor of former Focus DIY stores. Of the 244 units available after the DIY retailer went into administration in May 2011, B&M has taken 29 as of September 2013. B&Q has acquired 21 units, while Wickes has taken on 18 units, according to research by Trevor Wood Associates.
B&M has also taken on the largest number of former Comet stores, having acquired nine, followed by Wren Kitchens, which has taken on five. A total of 184 units remain vacant.
A glance at the beneficiaries of MFI's collapse brings up some other names making their presence known in the out-of-town space. The largest take-up comes from homewares retailer Dunelm Mill, which acquired 17 stores, followed by B&M, which took 12, and Pets at Home, which picked up 11.
The result of so many big-name retailers collapsing in quick succession was a sharp upswing in retail park vacancy rates in 2012, but this is declining fast. Since the middle of this year, with take-up of retail warehousing space continuing apace, and as a result of few additional new developments opening, Trevor Wood Associates predicts the overall rate will fall back to below 10% at the end of 2013.
For the year to December 31, 2013, the total vacancy rate is calculated at 10%, compared with 9.9% at the end of 2012. Meanwhile, the open A1 vacancy rate is forecast at 7.6% (compared with 7.5% at the end of 2012), and open non-food schemes have risen to 10.5% from 10.1%, while 'other' schemes, encompassing bulky goods and restricted schemes, have decreased to 11.5% from 11.8%.
Landlords' focus on increasing the amount of non-retail space on their schemes has positively affected vacancy rates, according to Lorcan Mooney, fund manager for Standard Life Investments UK Retail Park Trust. "There's been a definite emphasis on A3 uses in retail parks, especially where these can be slotted into large units that have been subdivided to accommodate food outlets such as Costa Coffee alongside smaller format high street retailers," he says.
And that trend is set to continue as shoppers come to expect even more from their local retail parks, predicts Andrew Berger-North, Hammerson's director of retail parks. "The new breed of out-of-town developments will have a wider retail mix and substantially more leisure and family-friendly catering as consumers demand more from the retail park environment and experience," he says.
Strong performance
In contrast to the struggling high street and its high vacancy rates, there's healthy demand for retail warehouse space, believes Mark Rudman, director of the out-of-town retail and leisure team at Jones Lang LaSalle. "At the beginning of 2013, we calculated there was about 8.1 million sq ft of requirements for that calendar year, the highest level since 2010," he says.
Retail warehousing has, on the whole, performed better than both the high street and shopping malls over the last few years, agrees Neil Varnham, managing director of retail asset management firm Pradera. "In well-managed parks, units very rarely remain vacant for long," he says.
For Varnham, the occupiers that have been leading the way in taking space are the discount retailers. He believes the large units of a retail park fit perfectly with the discounters' business model, which involves holding large amounts of stock. "In addition, their market share has grown, as cost-conscious, middle-class shoppers have shed the stigma of 'buying cheap' when it comes to branded products," he adds.
The migration of value retailers to out-of-town parks is having a positive impact on more established retail park names.
Other retailers are beginning to appreciate the benefits value retailers bring to a park, Rudman adds.
He highlights B&M, Home Bargains, Poundland and The Range as the key players "in a group of retailers that have consistently grown and taken greater market share".
"The range of products they stock, and quality of retail offer/experience have improved such that they are now considered good, regular footfall drivers," he says.
The changing mix at retail parks nationwide has had a significant impact on unit sizes - small-range units are making a comeback, in contrast to the larger traditional bulky goods operators of old.
Appetite for mid-sized units has reduced considerably and will continue to do so, believes Mooney. "There are fewer retailers looking for 10,000 sq ft. They either want smaller space or large formats. Primark, for example, typically looks for between 40,000 sq ft and 60,000 sq ft and home bargain outlets want 20,000 sq ft."
Mooney attributes this shift to the advent of multichannel, which has radically altered consumer behaviour. "That means retailers generally no longer need such big stores in so many locations. But they do still need some physical presence," he says.
Varnham predicts there will be an even greater mix of unit sizes on one site to meet the needs of a variety of occupiers in the near future. "The biggest impact on the way units are carved up is set to come from the growth of click-and-collect and ecommerce, where retailers may need less shopfloor space, but greater behind-the-counter storage facilities or automated collection boxes," he says.
Large unit sizes are the main reason aspirational brands such as Burberry, Mulberry and Ted Baker are steering clear of out-of-town parks, according to David Slatter, retail director of property consultant GL Hearn. "Units tend to be bigger. For example, Next is acquiring units which are 30,000 sq ft-plus and New Look units are 7,500 sq ft-plus, whereas average aspirational brands' units are about 2,500 sq ft," he says.
Flexible interiors
For Andrew Collier, partner for out-of-town retail at Cushman & Wakefield, the advantage of out-of-town parks is that units can be easily carved up by landlords into two or three mid-range units, "rather than just replacing a void with a like-for-like". A real draw for retailers in the current climate is "heavily glazed, small units with flexible shop fits", Collier adds.
Demand for smaller space is also coming from the historic meteoric rise in rents and the willingness of retailers to use mezzanines. This practice compresses ground floor requirements and therefore reduces property costs, according to Patrick Heaps, head of retail for BNP Paribas Real Estate.
But Heaps claims this has come at the expense of stores with larger footprints. What the market currently needs "are more retailers that have larger floor plates rather than the constant sub-division asked of landlords," he believes.
As a landlord, being able to provide affordable and flexible space is key, according to John Maddison, head of retail warehouse asset management for British Land. "As rents have risen and retailers have evolved their footprints, space has contracted gradually over the period - 8,000 sq ft became the new 10,000 sq ft," he says. British Land actively encourages the utilisation of 'free' mezzanine floor space. "We believe that [this] will improve efficiency and affordability for the occupier and drive ground floor rents in the long term, so it's win-win," says Maddison.
Hammerson's Berger-North reports healthy interest for mid-sized units of between 3,000 sq ft and 9,000 sq ft, alongside demand from the traditional department store operators for larger stores of 30,000 sq ft and upwards.
"As a result of the changing consumer profile of the retail park shopper, the traditional DIY anchor store is often now replaced by a fashion or department store anchor to provide critical mass and breadth of retail appeal to the consumer," he says.
In retail parks across the UK, there's a general sense of increased confidence from both investors and retailers. While retailers are right-sizing stores, taking up recycled space and adjusting their strategies to manage the new multichannel environment, crucially, consumers are spending again. These factors are "positively impacting investment and development activity," according to Mooney, with a small but steady increase in transaction levels.
"And with many local authorities generally supportive of retail development as a means of investment stimulus and job creation, a number of new retail parks could well be built," he says.
In the next 12 months, many commentators predict sports retailers such as Nike, Adidas, Decathlon and Sporting Pro will be the most acquisitive as they take advantage of JJB's demise. Factor into that Sports Direct's plans to acquire regional megastores, and it's clear big-box retailing is back in fashion.
Opportunities abound in out of town, if retailers and landlords know where to look.
Out-of-town's appeal
Next Home is the biggest tenant among the home retailers, taking 480,000 sq ft of space across the UK, according to exclusive research carried out for Retail Week by Trevor Wood Associates. Behind Next is BHS, with 330,000 sq ft, followed by HomeSense, with 270,000 sq ft.
With shoppers tending to look out of town rather than in town when they want to make a larger ticket purchase, the top 10 home retailers have been busy differentiating these stores from their in-town counterparts. Retail parks also give home retailers the chance to infiltrate areas where they're unable to open a full-range department store in town.
Recently, however, retailers are also imbuing these locations with a dual purpose by offering customers convenient collection, according to Charlie Buckingham Smart, associate for retail and leisure property specialist Chase & Partners. While being convenient, click-and-collect "also provides another reason for customers to visit the particular retail park and allows neighbouring customers to benefit from increased park footfall", he says.
The provision of large units, plenty of parking and complementary stores that give consumers choice in one location is a huge draw for the leading home retailers, according to Pradera's Neil Varnham. But landlords cannot be complacent, he warns. "We need to be increasing the dwell time of consumers by providing greater food and beverage facilities, so that instead of getting in their cars and driving home to discuss their options, customers can sit down on site, have a coffee and walk back in to a store to make their purchase," he advises.