Asos, Boohoo, Debenhams, JD Sports – UK brands are doing big business Down Under. And it's easy to see why.
Australia has a buoyant economy and has been recession-free for 27 years, experiencing the longest run of uninterrupted GDP growth of anywhere in the developed world.
It also has the most generous minimum wage in the world at AUS$18.29 (£10.05) per hour.
New Zealand's economy is equally robust. Economic growth is predicted to increase by more than 3% in 2018/19, according to the Office for Economic Co-operation and Development. This compares with just 1.1% growth in the UK.
But it's not just their solid economies that make Australia and New Zealand a good fit for the UK market. Shoppers there share many similarities with UK consumers because of the similar cultures, and there is strong demand for international brands.
Risk-free route to market
For retailers looking to expand Down Under, marketplaces are a "risk free" way to reach a large customer base, according to Woolworths Australasia chief digital officer John Bovill.
Much like the UK, marketplaces are a popular shopping channel for Antipodeans. Ebay, the market leader, is estimated to make up almost 5% of Australia's total retail sales and, despite its roots as an online auction house, 91% of what is bought on the site is new.
Retailers including Boohoo, Sports Direct and Superdry sell on eBay Australia.
Meanwhile, New Zealand's biggest marketplace, Trade Me, has 3.9 million active users – which is a huge 83% of the 4.7 million population.
The appetite for marketplaces – and the international brands that they stock – is only set to increase with the arrival of Amazon Australia, which experts believe will transform retail Down Under.
Amazon Australia stocks brands including French Connection, Michael Kors and Levi's and the etailer said the site was its most successful website launch, with first-day orders higher than any previous country-specific website debut.
These marketplaces can open up a huge potential customer base but knowing which platform is right for your brand and what consumers Down Under expect can make or break your launch.
Download Retail Week's Digitising Down Under report, in association with ChannelAdvisor, to find out: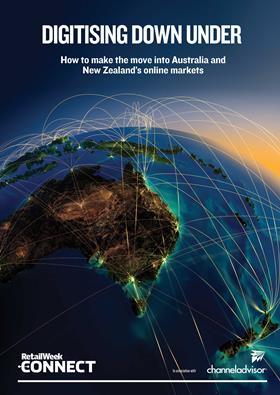 The major marketplaces in Australia and New Zealand
What shoppers expect in terms of price, products and delivery
The impact Amazon will have on ecommerce Down Under
Click here to download the report now.

ChannelAdvisor is a leading provider of cloud-based ecommerce solutions.