UK shoppers will spend almost one in four pounds online on Christmas shopping with ecommerce sales expected to surge by 19.5% this year.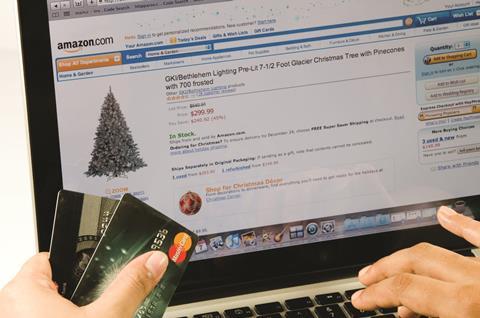 Online sales will hit £17.4bn in the six weeks between mid-November and the end of December as total sales are expected to increase by 2.2% to £74.3bn, according to research from the Centre for Retail Research commissioned by RetailMeNot.
Forecasts are in line with research from Mintel that predicted "unspectacular" sales growth of 3% during December, a slower rate than last year.
The Centre for Retail Research figures include next week's Black Friday shopping bonanza, which is expected to be twice the size this year.
It is estimated UK shoppers will spend £56.9bn this year on the high street and the report predicts the proportion of online retail sales will increase closer to Christmas Day as consumer hope to escape the crowds.
Online and offline Christmas sales 2013/14
Total Christmas Sales
Total Online Sales
Total Offline Sales
Ecommerce share of Christmas sales
2013
2014
2013
2014
2013
2014
2013
2014
£72.7bn
£74.3bn
£14.5bn
£17.4bn
£58.1bn
£56.9bn
20%
23.4%
The report predicts bricks-and-mortar sales will decline 2.1% this Christmas as the proportion of ecommerce sales grows to 23.4% this year, up from 20% in 2013.
Mobile Shopping as a Proportion of all Online Holiday Sales 2014 (estimated)
2014
2014
Growth 2013/14
PC
Mobile
Tablet
Smartphone
PC
Mobile
Tablet
Smartphone
PC
Mobile
Tablet
Smartphone
£12.2bn
£5.2bn
£2.1bn
£3bn
70.2%
29.8%
12.3%
17.5%
-8%
301%
267%
329%
Mobile shopping is expected to explode this year and account for £5.2bn of sales, almost twice as much as m-commerce sales in Germany over Christmas.
RetailMeNot senior vice-president of international Giulio Montemagno said: "The study reveals that almost 30% of all online Christmas sales will occur on mobile this year and in such a competitive retail environment it's more important than ever that retailers have a solid mobile strategy in place to target shoppers as they shop online or in-store."
Estimated Christmas spending per househould by category (2014)
| Gifts | Food & Drink | Holiday travel | Decorations | Total |
| --- | --- | --- | --- | --- |
| £ 459 | £ 216 | £ 77 | £ 23 | £ 775 |