Latest news, insight and analysis on HMV
HMV is a music and entertainment specialist. In January 2013 the group collapsed into administration, with 66 loss-making stores being closed by the administrators to improve prospects of a sale as a going concern.
The red-carpet season is upon us and HMV is on a push to capture some of the movie buzz with the launch of its first cinema advertising campaign in five years.
Growth is firmly on the agenda for George Osborne's much anticipated Autumn Statement next week and the Chancellor is under increasing pressure to ease business rates on the high street.
Full company profile for HMV, including: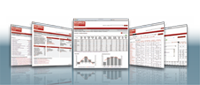 Powered by: