Tesco is testing a tyre fitting service at its Bletchley Extra store as it looks to expand the offer at its shops for online customers.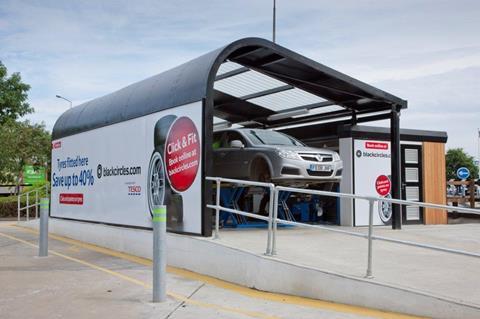 The Click & Fit service, which is a partnership with Blackcircles.com – the tyres etailer backed by former Tesco boss Sir Terry Leahy – allows customers to book a fitting online to be carried out at the Bletchley store's "Pit Stop". Clubcard points can be collected on transactions.
It is thought the service will be rolled out to further Extra stores if successful.
Blackcircles.com already operates online venture Tesco Tyres on behalf of the grocer which fit tyres at independent tyre fitters.
Tesco category director for petrol filling stations and forecourt services Peter Cattell said: "This is a great opportunity for us to work together with Blackcircles.com to offer customers a unique service – the ease of ordering online, the convenience of being able to shop at Tesco while their tyres are changed on-site, great prices and Clubcard points too."
Blackcircles.com managing director Mike Welch said the tie-up could be a "game changer for the UK tyre market".
He said: "This deal is great news for UK motorists. By bringing together the Tesco Clubcard offer and convenience of the Tesco store locations with the Blackcirles.com business model and supply chain we have been able to create an appointment based market leading Clicks & Bricks tyre service for UK motorists."