Walmart has extended its partnership with Microsoft as part of the drive to "accelerate" its digital transformation.
The US retail Goliath has signed a five-year deal with the technology company that it said will "empower its associates worldwide and make shopping faster and easier for millions of customers".
Walmart will use Microsoft's cloud technology for a host of "innovation projects" that leverage machine learning, AI and data platform solutions.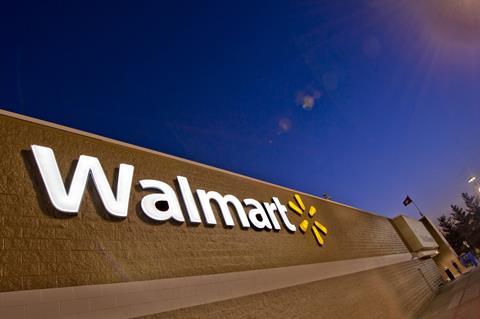 The retailer said the five-year agreement would benefit the business in three main areas: digital transformation, innovation and changing how it works.
In the area of digital transformation, Walmart will use Microsoft Azure and Microsoft 365 "to grow and enhance the online experience" for shoppers.
The retailer said it will move "a significant portion" of walmart.com and samsclub.com to Azure, including its cloud-powered checkout process.
Engineers from Walmart and Microsoft will work together on the "assessment, development and support phase" of moving hundreds of existing applications to the cloud.
Walmart said working more closely with Microsoft would allow it to ramp up its innovation, including "the ability to quickly and seamlessly launch new features".
It added that there were "massive benefits" to operating with Microsoft at scale and building an 'internet of things' platform on Azure, including refrigeration units that reduce energy usage in stores and machine learning to route thousands of trucks in its supply chain.
Walmart said the partnership showed it was "investing in its people" to help it change the way its employees work.
It said the planned rollout of Microsoft 365 would give staff the tools "to foster a culture of collaboration, creativity and communication", break down silos within the business and save time on certain tasks.
Walmart boss Doug McMillon said: "Walmart's commitment to technology is centred around creating incredibly convenient ways for customers to shop and empowering associates to do their best work.
"Walmart is a people-led, tech-empowered company, and we're excited about what this technology partnership will bring for our customers and associates… We believe Microsoft will be a strong partner in driving our ability to innovate even further and faster."
Microsoft chief executive Satya Nadella added: "Walmart is a pioneering retailer, committed to empowering its employees and delivering the best experience for its customers wherever they are.
"The world's leading companies run on our cloud. I'm thrilled to partner with Walmart to accelerate their digital transformation with Microsoft Azure and Microsoft 365."