Retail Week and WRC's Global Innovation Report explores how retailers across 18 markets – from Carrefour in France to Alibaba in China – are investing to future-proof their businesses. We take you inside Ikea's plan of action.
Swedish furniture retailer Ikea was established in 1943 and operates 460 stores across 62 markets. The business reported a total sales increase of 6.5% to €44.6bn (£38.5bn) for fiscal 2022. It hosted 822m visitors to its stores and 4.3bn visitors across its online channels that same year.
Driven mainly by the European market, Ikea store sales grew by 13%, while digital sales fell by 10% year-on-year due to the restoration of store footfall post-pandemic.
The retailer is blazing an investment trail across all areas of tech, store, customer experience (CX), ecommerce and ESG, with the customer placed front and centre of its strategic decisions.
AI-driven CX
Focusing on superior customer service, Ikea launched an AI bot named Billie in 2021 to handle run-of-the-mill queries. Around 8,500 call centre workers have been freed up to become interior design advisers since its launch, while Billie has handled 47% of customers' queries to call centres.
Supply chain
In May 2022, Ikea announced that it was set to spend €3bn (£2.59bn) on adapting its iconic out-of-town, big-box stores to double up as ecommerce distribution centres. Another example of Ikea investing in customer service, this enables the retailer to increase its order fulfilment capacity.
Most recently, in June 2023, owner Ingka Group has focused on improving its operations by acquiring US-based software brand Made4net for an undisclosed sum. The 100% acquisition of the supply chain solution provider will allow the company to run online fulfilment more efficiently.
Stores
Ingka Group is also making its biggest-ever investment in stores and fulfilment away from home, with plans to spend €2bn (£1.8bn) on omnichannel growth in the US over the next three years. This marks the largest investment in four decades of operating in the country. Existing US Ikea stores are also being modernised to offer home delivery.
Ikea currently has 52 stores in the US. Stateside sales for fiscal 2022 were $5.9bn (£5bn) compared with £23bn European sales.
Promoting sustainability within the store experience is a priority, too. In February 2023, Ikea launched an augmented reality (AR) experience that teaches customers about marine life and sustainability. In partnership with Meta and Warpin Reality, the AR game Lilla Äventyret (Little Adventure) was deployed across 21 stores in Sweden for a limited period. The game encouraged players to engage with themes, such as littering and pollution prevention.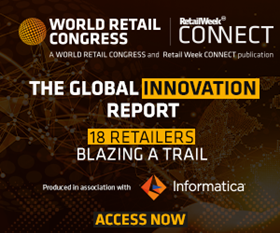 Want to discover other international retailers' innovation plans? Access your free copy of The Global Innovation Report today to read:
Strategic profiles of 18 global retailers and brands investing in tech, data and transformation for future growth
Data on the economic outlook for major retail markets ranging from Australia and Europe to the Americas and Asia
Key priority areas for global retail spanning society, technology, economy, policy and industry