In 2017, there aren't many retailers that don't operate an ecommerce site, but being a successful multichannel retailer is so much more than simply opening an online store.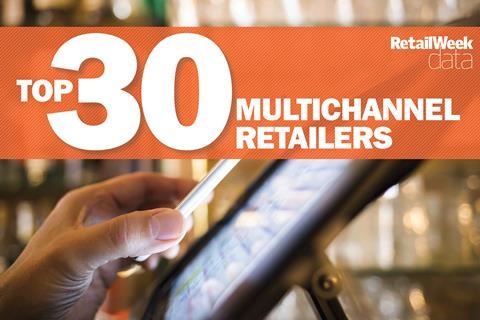 Action points for retailers:
1. Flexibility
If there is one overarching theme it is that retailers should remain adaptable in their approach as there is no single recipe for success.
Camera specialist Jessops, for example, was relaunched as a digitally led multichannel business by Dragons' Den star Peter Jones after it collapsed into administration in 2013.
This involves trading through a much smaller store network based in large urban areas around the country, but also by differentiating itself from online competitors through a speedy 30-minute click-and-collect service.
But while having an extensive store network might be seen as a disadvantage in the current multichannel world, retailers including Screwfix and The Entertainer beg to differ. Both have realised the potential for stores to act as fulfilment centres and are continuing to pursue physical expansion.
Meanwhile, Argos is a prime example of having leveraged its sizeable estate as the backbone for its industry-leading Fast Track delivery service.
2. Speed
Stores provide a level of immediacy that the online channel will struggle to rival, but the Gap is narrowing thanks to quicker delivery times.
The Entertainer is one of only four stores in the top 30 to offer 90-minute deliveries
While only about a third of the top 30 currently provide a same-day delivery service, this proportion is expected to increase as it becomes a fierce battleground in online retail.
Ninety-minute deliveries are less prevalent, with only four retailers – Maplin, Matchesfashion, Schuh and The Entertainer – offering this.
Nevertheless, with consumer expectations around speed and flexibility of fulfilment continuing to gather pace, retailers ignore investment in this area at their peril.
There is also a real opportunity for multichannel retailers to excel in this area as they benefit from their existing store networks.
Pureplay behemoth Amazon may have distribution centres scattered around the country in strategic locations but the majority of etailers will have more limited distribution capabilities and are less well-placed to offer fast deliveries.
A bricks-and-mortar presence provides what should be a bulletproof foundation for advancements in fulfilment.
3. Tech investment
With online continuing to take a greater slice of overall sales, multichannel retailers are finding that their stores are becoming less productive.
However, this does not mean retailers should radically reduce their footprint – rather they should aim for a perfect synergy between online and offline through considered investment in new technologies.
Click-and-collect is an ideal way to drive online shoppers into store. It's convenient for shoppers and productive for retailers – often leading to additional purchases.
It also gives the chance to enhance brand reputation by offering an engaging and pleasurable in-store experience – an opportunity that should further prompt investment in new in-store innovations.
Smart retailers are also those that have gone one step further and have achieved a single view of stock. By allowing shoppers to see if a store has a particular item in stock, they may decide to visit a store that they wouldn't have otherwise.
This capability can be tied into a speedy click-and-collect service, with both Jessops and The Entertainer, for example, offering click-and-collect within 30 minutes.
The top five
| Rank | Retailer | RWP multichannel score | % of sales generated online |
| --- | --- | --- | --- |
| 1 | Argos | 1,960 | 53% |
| 2 | John Lewis | 1,815 | 42% |
| 3 | Dixons Carphone | 1,743 | 25% |
| 4 | Schuh | 1,701 | 16% |
| 5 | Evans Cycles | 1,657 | 33% |