RWRC has published its annual Tech 100 index celebrating the most innovative global technology leaders influencing retail. List editor Megan Dunsby discusses how the spotlight has shone on more female leaders than ever before but why there is still more work to be done
From disruptors and tech titans to brands, investors and collaborators, this year we have seen incredible women from across the globe leading innovation and technological change that directly impact the retail industry for the better.
These female tech leaders have been recognised in our Tech 100 index – an annual showcase of the most influential people shaping the future of commerce through technology and digital innovation.
Celebrating more women powering retail innovation
This year, the Tech 100, produced in association with Salesforce, ChannelAdvisor and DataRobot, has celebrated 25 female tech leaders – a 25% uplift on 2019.
These women feature from across the industry too, from those at the helm of retailers and brands such as Boohoo CIO Jo Graham, to investors such as Beringea chief investment officer Karen McCormick, and those driving innovation at tech titans such as Pinterest's retail vertical strategy lead Amy Vener.
The 25 women in the Tech 100
Julie Averill, chief technology officer, Lululemon
Nina Bhatia, executive director strategy & commercial development, John Lewis Partnership
Tania Boler, CEO and co-founder, Elvie
Isabela Chick, managing director, Founders Factory
Tessa Clarke, CEO and co-founder, Olio
Sarah Clemens, COO, Twitch
Jo Graham, CIO, Boohoo
Claire Hennah, global VP of ecommerce, Unilever
Alexia Inge, co-CEO and co-founder, Cult Beauty, Disruptors
Jody Kalmbach, group VP of product experience, Kroger,
Tina Lake, co-founder, My Wardrobe HQ
Tisha Livingston, chief executive, Infinite Acres
Ianina Lucca, SVP of growth, Depop
Karen McCormick, chief investment officer, Beringea
Clodagh Moriarty, retail and digital director, Sainsbury's
Sacha Newall, co-founder, My Wardrobe HQ
Amélie Oudéa-Castéra, executive director of ecommerce and digital, Carrefour
Mel Smith, chief executive, Ocado Retail
Carrie Tharp, VP of retail, Google Cloud
Anna Tillberg Pantzar, head, H&M The Laboratory
Amy Vener, retail vertical strategy lead, Pinterest
Sarah Venning, chief technology and transformation officer, Pret a Manger
Terri Westlake, customer director, Dunelm
Imogen Wethered, co-founder and CEO, Qudini
Lucy Yeomans, creator, founder and co-CEO Drest
The Tech 100 also shines a light on the women shaping tomorrow's tech-led world through disruptive solutions and game-changing innovations.
These include the likes of Tisha Livingston, the chief executive of US-brand Infinite Acres, which is making vertical farming a reality, and Tessa Clarke, the chief executive of food sharing app Olio, which is helping retailers including Tesco and Sainsbury's to make their supply chains more sustainable.
Greater gender diversity is needed
While the successes of these 25 female tech leaders cannot be ignored and there are more women in the Tech 100 than ever before, it is sad to see that the index continues to be dominated by men and, in the majority, white men.
This holds a mirror up to the digital and technology industry at large, as well as the retail sector.
While it is true that increased gender diversity characterised RWRC's Retail 100 index of the industry's most influential people, published in June, with more women (23) recognised than ever in the list's history, the sector must go further.
Twenty-three out of 100 is not good enough and the same applies for the 25 women in this year's Tech 100.
So what can those in digital, technology and retail do to improve gender diversity? Thee same simple question we asked leaders to consider after revealing the Retail 100 applies:
"Ask yourself this question: When it comes to promoting all types of diversity in my business – including gender, black and ethnic diversity, LGBTQ+, disability and social mobility – am I doing enough?"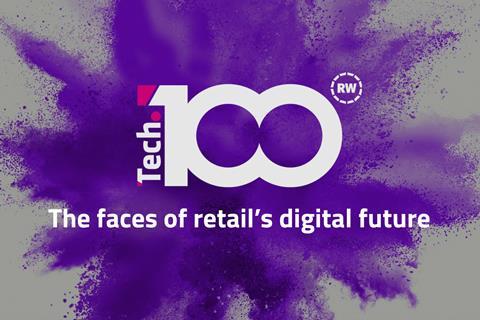 Find out more about the inspiring women in the Tech 100 by downloading your free copy of the digital report here today.
Get the lowdown on the 100 most influential people shaping the future of commerce through technology and digital innovation.