530 UK store staff reveal what they really want from retailers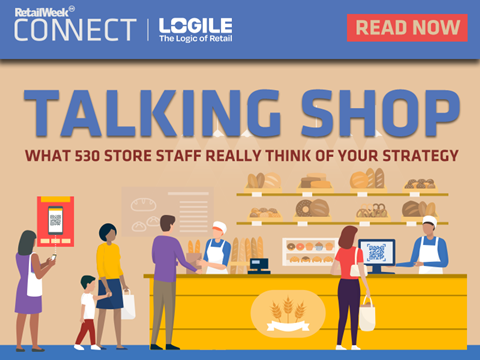 Are you confident your store staff are happy in their roles?
Some 43% told us they have no say over the changes put in place by retail leaders, leaving 49% willing to quit their jobs for better roles elsewhere.
So how can you avoid a retail exodus and maximise staff engagement and, therefore, productivity?
Retail Week's latest enlightening report – Talking Shop – reveals how to get closer to your staff with exclusive findings laid bare.
Between March and April, 530 UK store colleagues were surveyed, sharing their feelings towards their roles, integration of in-store technology, workplace communications and the shape of the stores of tomorrow, with some surprising findings.
Download your free copy of the Talking Shop report now to make the most out of your biggest asset – your workforce.
You will also discover:
Which strategies work – how retailers such as Ikea, Holland & Barrett and M&S are taking action to support store staff

Where you should invest – which areas of retail will be most improved with innovative tech

How to avoid the pitfalls – what are store teams' biggest barriers to embracing digital change

Store colleagues' forecast for the shape of the stores of tomorrow

Logile provides retail labour planning, workforce management, inventory management and store execution solutions, combining best-practice consulting with planning and execution software that enable retailers to maximise efficiency, customer service, employee satisfaction and profitability.
View full Profile