PAID FOR POST
The Hermes Supply Chain Blog on Retail Week
One of the biggest challenges faced by retailers and logistics firms ahead of Christmas was finding enough lorry drivers to move goods around.
For an industry that relies on getting products from A to B – be it a store or a home – this is a major issue.
There is a shortage of HGV drivers in the UK with the pool of workers shrinking to its lowest levels since records began this year.
The Freight Transport Association said in October that nearly 35,000 additional lorry drivers are needed in the UK.
But could the answer to this problem lie in driverless vehicles?
Driverless technology is already here. Uber, which has partnered with carmarker Volvo, is already testing self-driving cars in the US while tech giant Apple confirmed earlier this month that it is investing "heavily" in developing its own model.
The leap from self-driving car to self-driving lorry is a small one to make. In fact, Uber acquired self-driving lorry firm Otto earlier this year and made its first commercial delivery in October.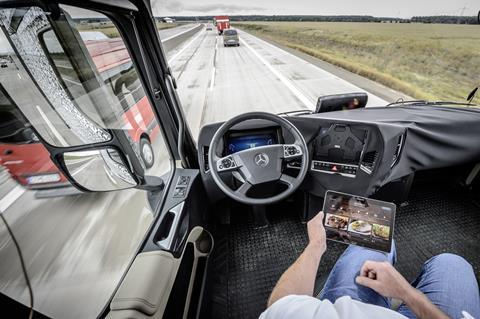 UK keen to drive innovation
Driverless car trials have also taken place in the UK. In October, Selenium - a two-seater electric vehicle developed by Oxford University's Oxford Robotics Institute - completed a short journey in Milton Keynes in what was deemed "a landmark step" towards bringing self-driving vehicles to our roads.
In fact, the UK government is keen to lead the way in driverless technology. The Department for Transport said earlier this year that the UK would "lead the way" in testing driverless "HGV platoons".
The technology enables vehicles to move in a group, using less fuel, it said.
Cost savings
Insurance provider AXA estimates that self-driving trucks will save the UK haulage industry £33.6bn over the next 10 years.
That is a substantial cost-saving and making such savings will be top of mind for retailers in what is expected to be a tough year for the industry.
Of course, safety checks and regulation changes will be necessary before driverless lorries hit the mainstream.
However, there is clearly appetite from government to make this happen and with giants like Uber and Apple pioneering this technology self-driving logistics may not be a sci-fi fantasy but a cost-saving reality.