PAID FOR POST
The Hermes Supply Chain Blog on Retail Week
This week two of the UK's biggest grocers unveiled positively futuristic fulfilment trials designed to meet growing customer demand for super-quick delivery.
First up, Tesco. The supermarket has started using robots to deliver groceries within the hour in London.
Tesco is working with Starship Technologies – the firm responsible for the Just Eat robots that are frequently seen whizzing around the streets of Southwark – for the trial, which delivers goods to customer homes either from stores or special delivery hubs.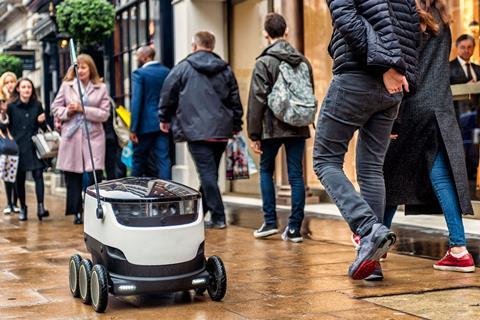 Meanwhile, Ocado is set to kick off a driverless delivery van pilot later this year. The etailer, famous for the exemplary service of its drivers, is working with Oxbotica, the firm that is currently testing self-driving cars in two Government-backed trials.
These trials follow hot on the heels of Amazon's ongoing drone delivery pilot. When Amazon's Jeff Bezos first tabled the idea, many baulked at the suggestion and dismissed it as a PR stunt.
But he was deadly serious. Last year, Amazon Air made its first drone delivery in Cambridgeshire, which it claimed took just 13 minutes.
The rationale for robots
It's plain to see why these retailers are investing in robots and automation. Shoppers are demanding super-fast delivery. Next-day delivery now seems like old hat in a world where Amazon can get your online purchase in your hand within two hours of clicking 'buy'.
But as much as shoppers want speedy delivery, they aren't prepared to pay for it.
Already the last mile makes up a hefty share of parcel delivery cost. According to consultancy McKinsey, this can exceed 50% of the total cost.
Therefore, making savings from this expensive part of the process is inevitably high on many a retailer and courier's to-do list.
Automation seems to be where most believe these savings will come.
What is the future of last-mile?
But are the drones, robots and self-driving vans that are being trialled really viable?
On current evidence, you'd be right to be dubious.
"So far, there are not much cost savings to be seen. However, both Ocado and Tesco will remove humans from the process as the trials progress"
Amazon might have completed successful drone deliveries, but so far, trials have been carried out in the depths of rural Cambridgeshire, free from the obstructions encountered within cities.
Tesco's robots are currently accompanied by a human "robot handler" who helps the device navigate crossing the road, while an Ocado worker will remain onboard its self-driving vans to help carry shopping and to take control in an emergency.
So far, there are not much cost savings to be seen. However, both Ocado and Tesco will remove humans from the process as the trials progress.
The marketing boss of Starship Technologies told Retail Week that it aims to get the cost of on-demand delivery to between £1 and £3 in the future.
Significant regulatory change will also be needed before any of these technologies are used completely unmanned.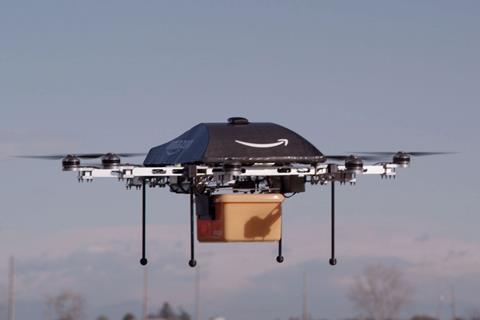 However, experts believe this can and will happen over the next ten years.
McKinsey believes autonomous vehicles, including drones, will deliver 80% of all items in the future, with traditional delivery methods responsible for the rest.
Interestingly, given that Tesco and Ocado are among the innovators in this area, McKinsey believes that human delivery will remain the preferred fulfilment method for online grocery as customers still want their shopping carried up to their flats and returns to be handled directly.
Nevertheless, Tesco and Ocado should be applauded. Ten years is a surprisingly short time. The action that these grocers are taking now could gear them up to be the experts in the futuristic-sounding world of last-mile delivery that is just around the corner.