A born entrepreneur, Ben Francis started fitness brand Gymshark at the age of 19. Now just 25, he has built a global phenomenon. Grace Bowden reports on the OC&C Emerging Retailer winner.

In 2012, Ben Francis was 19 years old, but already tinkering with his sixth business idea.
He had always been entrepreneurial; his granddad had honed that instinct in the youngster by drafting him in to help with his furnace-building business when Francis was just 14.
Inspired by his grandfather's drive, but less sold on the manual labour that came with building furnaces, Francis began trying out his own business ideas.
Ventures into customisable licence plates, website development and mobile apps followed, but Francis really found his stride when he married his passion for business with his burgeoning obsession with the gym, where he has been going "at least five times a week" since he was 17.
Realising that no one made the type of kit he wanted to work out in (inspired by the skinny jeans that were a mainstay in every teenager's wardrobe at the time), Francis drafted in his nan, who made curtains, to teach him how to sew.
Less than six years later, Francis, now aged 25, is at the helm of a skyrocketing global phenomenon. Gymshark is forecast to hit the £100m sales mark in its 2018 financial year.
The fast-growing etailer has sewn up a previously overlooked sector of the market – the fitness-focused, social-media-savvy, millennial gym bunny who wants affordable workout gear that will do the trick whether they're lifting weights or posting selfies on Instagram.
"Just because it works, it doesn't mean you have to do it. You can force yourself to think of something better"

Ben Francis
Nevertheless, Francis is the first to admit that Gymshark's stratospheric trajectory took him by surprise in the early days.
Asked when he first realised he was on to a winner with his brand, Francis recalls a fitness expo in Birmingham where Gymshark set up a stand in 2013 – less than a week after he'd decided to quit his back-up job as a delivery driver for Pizza Hut.
"We sold out of all of our product on the stall that day and ours was the biggest line of customers in the whole hall, which we really weren't expecting," he says.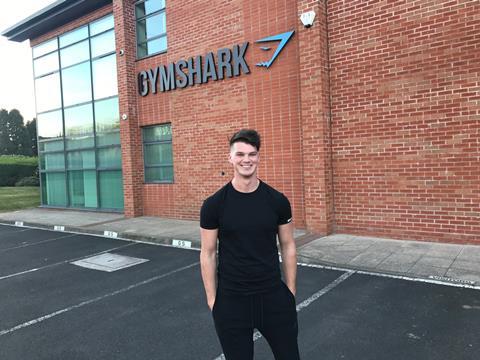 Early success
In order to ensure Gymshark could fulfil demand, Francis – who was still making the clothes himself at that point – had made the decision to close down its ecommerce website during the expo.
However, after a hard day's trading and mainly out of curiosity, he decided to set Gymshark's website live again that evening.
"We did £30,000 of business in less than 30 minutes and I had to shut the website down again," he laughs.
Since that seminal weekend, Francis has swapped delivery driving for jet-setting – he took 55 flights last year and was on the front line for Gymshark's pop-up shop openings in New York, Los Angeles, Sydney and Paris.
Pop-up strategy
Asked why Gymshark has not established a permanent bricks-and-mortar presence yet, he says: "It's not like we have a concentration of fans in one area. They're everywhere and we try our utmost to treat every single customer the same.
"So doing pop-ups this way offers exclusivity, while allowing us to get everywhere and speak to everyone who wants to interact with the brand."
The cult status from Gymshark's early days in expo halls has taken the business from strength to strength overseas, as well as in the UK – the US is now its biggest market and comprises half of its total sales.
"We're not worried about Adidas or Nike. The thing to be aware of is the 14-year-old in his room making the next big thing"

Ben Francis
Francis has big plans to capitalise on international interest in the brand. Gymshark is forecast to hit the £200m sales mark in 2019 and is preparing to launch country-specfic websites in India and Russia.
The retailer appointed Steve Hewitt as chief executive in 2017, who Francis says "looks after today at Gymshark, while I take care of tomorrow".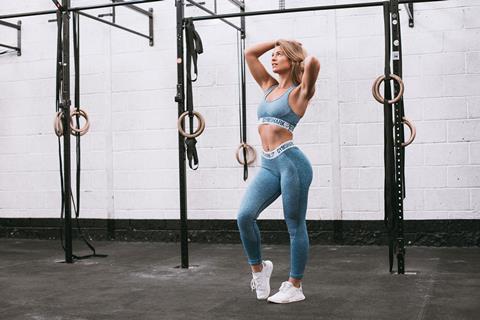 Francis focuses on product, brand and marketing in his role. There is a lot about his strategy to drive Gymshark's growth that feels innate to him – and a lot from which other, more established businesses could pick up ideas.
"One thing I've learned is that just because it works, it doesn't mean you have to do it," says Francis.
"A lot of people find something that works really well for them and then just bleed it to death, which we definitely don't want to do. If you put a stop to something, you force yourself to think of something better.
"I see people who create a store and it does well, so suddenly there will be 500 of the things all over the place – and it doesn't make what they're doing any better, it just makes it more accessible."
Eschewing that model has created a 'fomo' (fear of missing out) factor that has been critical to Gymshark's success – although, of course, the brand is accessible to all online.
Star quality
The business opened 12 pop-up shops last year in a manner that more closely resembled a famous band on tour than it did a fitness retailer.
The stores are only ever open for two days at a time, but they are peppered with top-tier social media influencers for customers to meet, as well as exclusive merchandise. And Francis refers to Gymshark shoppers as "fans".
While this could be seen as a grandiose way to speak about one's customers, the term feels apt for the millennial-focused fitness brand's customers.
"Francis had to start from a smaller basis and go up against big brands. This stood out a mile to me"

Judge
Since its launch, Gymshark has notched up five million followers on social media and has more than 800,000 active customers. And its pop-up shops regularly notch up seven-hour queues for entry.
From the business' use of social media influencers to its take on how to utilise store space, Francis has a vision that is distinctly different from the status quo of retail – which is why Gymshark stood out to the judges.
"There's so much competition in this sector, it's unbelievable that it has managed to grow so rapidly," says one judge.
"Others in that market have really struggled – bigger companies than this. Francis had to start from a smaller basis and go up against big brands. This stood out a mile to me."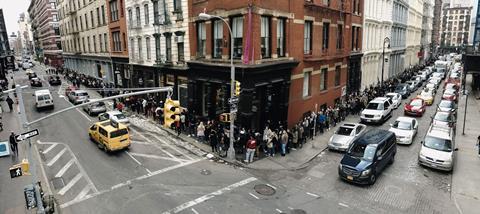 Rapid ascent
Perhaps that disruptive vision is exactly what makes Francis more wary of who is behind him than who is in front.
"We're not worried about Adidas or Nike or Lululemon, because we're coming towards them super-fast," says Francis. "The thing you should be aware of is the 14-year-old sat in his bedroom making the next big thing."
Francis may be changing the game in sportswear retail, but in his personal life he is a creature of habit.
He professes to being a big fan of routine and eats the same three meals every day that he is in the UK – although he admits this is becoming an increasingly rare occurrence.
No green juice and lean steak for this Birmingham lad, who prefers a bacon sandwich for breakfast, a staple Nando's order of "lemon and herb double chicken burger with peri peri chips and the red pepper dip for lunch" and fish and chips for dinner.
Whether it's his lunch order or his business strategy that may surprise about Francis, he is absolutely clear on what he wants – and that is to make Gymshark a household name.
He has come a long way from his parent's garage, but Francis shows no signs of giving up the heavy lifting in the gym – or in business – any time soon.
OC&C

OC&C Strategy Consultants operates in the key markets around the world to bring clear thinking to the most complex issues facing ambitious management.
OC&C works side by side with its clients to achieve lasting improvements in strategic performance and to maximise long-term growth. Its client roster includes some of the world's most respected retailers and private-equity investors in the retail sector.
Its retail team is recognised for the expertise and insight it brings to the rapidly evolving retail landscape. OCCstrategy.com
For a list of all the award winners in full, click here.