PAID FOR POST
More voices from the retail industry
This year is nearly at an end and, while retailers are hoping for the best during peak, the attention of many is now shifting to what 2021 might hold.
We know there will continue to be some level of lockdown-related disruption, though positive news of vaccines raises hope that this will be minimal.
However, the long-term economic impact of Covid-19 restrictions will surely be felt throughout the year. Most forecasts suggest that unemployment has not yet peaked and could rise as high as 12%. And, while consumer confidence and GDP have picked up recently, there is talk of a double-dip recession long into next year.
With all this in mind, Summit recently surveyed a representative sample of 500 UK shoppers on their attitudes towards the economy and how this related to their spending behaviour. The results paint a picture of a nation desperately clinging on to something normal while being wary of over-committing themselves.
There are, of course, less fortunate individuals whose livelihoods have been dramatically affected by coronavirus, with 5% of our sample saying they have had a complete loss of their income since March (in line with current unemployment rates).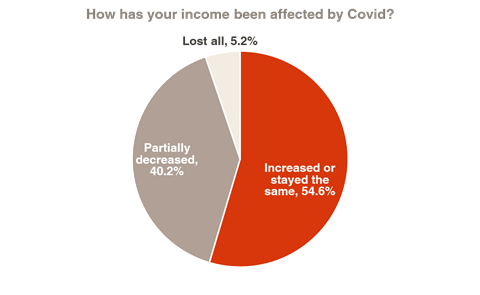 Unsurprisingly, a large proportion of these shoppers have reduced their essential spend (58%) and non-essential spend (81%).
By comparison, among customers whose livelihoods have not been impacted (55% of our base), 15% had decreased essential spend and 41% had decreased non-essential spend.
Despite this, 70% of these customers are looking to save money on their shopping, but this is likely to be an evergreen stat. When are shoppers ever looking to get less value from their purchases?
Where is this reduction in spend coming from?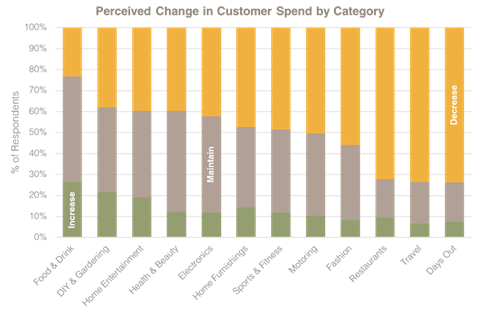 The above chart shows that, for most categories, more than half of customers are maintaining or increasing their spend. It is only fashion and motoring where a majority are reducing their spend, alongside industries where access has been physically restricted due to lockdown measures.
This suggests that a majority of customers are trying their best to carry on as normal so, for most retailers, now is not the time to completely tear up and replace your sales plan.
It is also worth noting that a higher proportion of low-income respondents have had a partial or full loss in earnings than higher-income respondents.
From a social and moral perspective, it is concerning that the worst-off in society look set to be the ones that suffer the most economically due to Covid-19. However, from a retail and commerce perspective, it is reassuring that those with greater spending power are less impacted.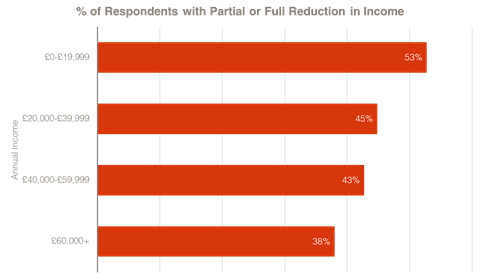 This all suggests that those customers that can still afford to (and many of them can) are still finding ways to spend their money, hence the dramatic shift in online retail spend. The challenge for most retailers is to continue meeting this demand.
Will the pending recession change this?
What is clear from the data is that spending behaviours in 2020 have had greater focus on 'essential' categories, but what do customers deem essential?
If we analyse all customers who said that they're increasing or maintaining their essential spend, but decreasing their non-essential spend, we find four categories where a majority of respondents were maintaining or increasing their spend: food and drink, health and beauty, DIY and gardening, and home entertainment, suggesting these are categories that customers will continue to purchase unless things get really dire.
To determine how these trends will evolve next year, we wanted to understand to what extent customers are concerned about the economy. The chart below shows that, for a significant proportion of customers, the state of the economy is a concern and will likely influence their buying decisions.
Furthermore, 71% of consumers are more worried about the economy now than in March, so it is clear retailers must be conscious of this when considering the key elements of their value proposition in 2021: pricing, product range and communication.
Some 39% of our panel said they were "actively looking for advice on how to deal with the recession", so those retailers that can be seen to be helping customers through hard times stand to win.
However, there is a balance to be struck. If your "We're here to help" message is too generic, or not relevant and appropriate for your brand, you risk significant long-term damage; 48% of respondents stated that they are becoming less brand-loyal during the pandemic, so there is plenty of scope for you to lose out to competitors and disruption in your market.
Be genuine and customer-focused and do not lose sight of what made you successful with your customers in the first place.
Predicting what might happen next in the world of retail is a futile exercise at the best of times, and even more so during a global pandemic.
Anyone claiming to have all the answers for next year will likely come unstuck. Therefore it makes sense to stick to the basics of understanding the behaviours and attitudes of customers in your categories, adjusting to their needs and meeting them where they are.
If you do that, we might just make it through 2021.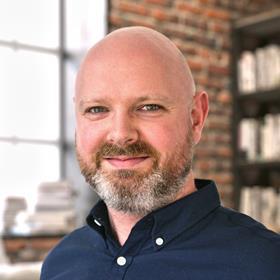 Darren Wright is product strategy director at Summit – changemakers in retail
Wright has spent more than 12 years helping brands and retailers use data and science to better understand, acquire and retain their customers.
He now leads the development of Summit's products and services, ensuring their clients maximise customer engagement and ROI across the full suite of digital marketing tools and tactics.
Summit are performance marketing specialists. Over the last 20 years we have grown internationally and partnered with some of the biggest brands in retail, helping them transform their online business, grow their customer base and make more money from retailing online. We pride ourselves on our retail experience, our business agility, our genuine people and our proprietary technology, combining all of these with our performance marketing expertise to drive measurable value for you.