PAID FOR POST
More voices from the retail industry
Global location data management leader Yext shares best practices for using location data to exceed customer expectations.
Imagine that you need a new vacuum cleaner. You check the hours of your local Argos on your mobile phone, and walk to the store to find the location is gone. If you didn't know that your Argos location may now be housed inside a Sainsbury's supermarket following the recent acquisition, you'd probably go to the nearest competitor, which could cost Sainsbury's real revenue.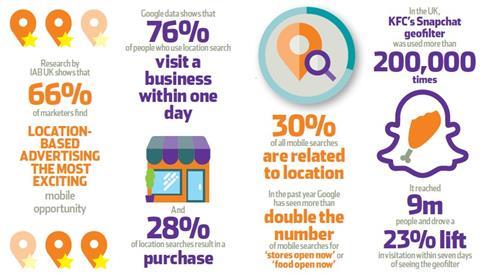 For retailers courting the average Briton who does not follow retail news, this sort of situation is highly possible, even likely, without clean and precise location information across all maps, apps, and search engines.
'Near me' searches have increased 146% year on year, according to Google, and with 76% of these users visiting a business location within one day, the mobile customers most vulnerable to location data errors are also those with the highest intent to buy. Faulty location data presents a major revenue risk.
Technology providers are taking notice and there has been an unrelenting wave of novel applications of geolocation technology and social and gaming in just the past six months — from branded Snapchat geofilters to the unprecedented phenomenon of Pokémon Go.
That means businesses have more opportunities to engage with their customers locally, and also more places they must maintain their location data. The businesses that leverage the location data opportunity are the ones that will find success in this marketplace tomorrow.
This was the overarching theme at the 2016 Retail Week Buzz Hackthon when seven teams vied for victory by building solutions that had location-based technology at core.
The three keys to leveraging location data successfully:
1. Think beyond the NAP
It used to be that accurate name, address, and phone number (NAP) information was enough to drive customer footfall through search — no longer. Customers expect rich content such as menus, photos, logos, email addresses, and more on the go.
"Location is at the core of everything that we do at Yext. We believe location matters and our mission is to help businesses leverage the power of their locations"

Jon Buss, Yext
In fact, a recent Yext study found that listings with 14 of the major fields filled in received 347% more searches and 416% more listings views. Accordingly, these location-specific data assets are now critical to local search ranking.
2. Consistency is king
Is information such as hours up to date and accurate whether customers search on Google, Apple Maps, or even Facebook? There's nothing more frustrating to a consumer than seeing on Google that you are open and on Yelp that you aren't – perhaps except finding out the hard way upon arriving. And Google cares too – consistency impacts how you rank in Google.
3. Make reviews work for you instead of against you
Customers make decisions based on reviews. Take the hospitality industry: a 2014 TripAdvisor study found that 77% of travelers reference reviews before booking a hotel. Brands are increasingly seeking a robust means of monitoring, addressing, and ultimately, improving customer reviews – extending customer service after the person leaves the store.
Managing this information manually across so many online resources can amount to several full-time jobs.For brands such as Premier Inn, the easiest way to make sure location data is always accurate is to use the Yext Location Cloud, a platform enabling one-click location information management across all major online information sources
In the mobile search age, customers take it as a given that location information is going to be accurate anywhere they look for it. Creating loyal customers requires retailers to meet and exceed that expectation.
Click here to download a white paper on the power of location-based marketing, produced by Retail Week and Yext.
Jon Buss, managing director, UK and Northern Europe, Yext

Yext is the AI search company on a mission to transform the enterprise with AI search. It offers a modern, AI-powered Answers Platform that understands natural language so that when people ask questions about a business online they get direct answers – not links. Find out more at yext.co.uk.