PAID FOR POST
More voices from the retail industry
Alongside Holland & Barrett's physical stores, the retailer has a thriving tech team led by its chief technology officer Sathya Nandakumar. Slack's Chris Mills met with her to discuss how Holland & Barrett's teams are using a digital HQ — a single digital space that organises work between people, systems, partners and customers — to improve collaboration across the business
Chris Mills, head of customer success EMEA at Slack: To get us started, what are the big-picture challenges facing you and other retailers at the moment that technology can address?
Sathya Nandakumar, chief technology officer at Holland & Barrett: In recent decades, the rise of online shopping created new urgency for bricks-and-mortar retailers to accelerate their digital transformation.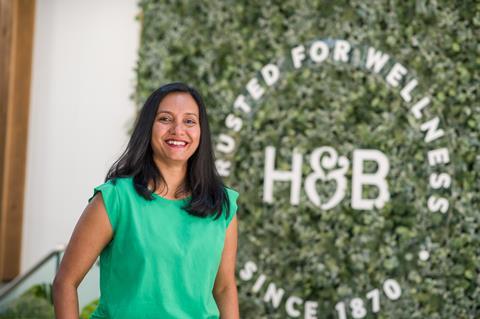 Pandemic pressures only added to that, alongside issues like the supply chain crisis. Uncertainty has to be expected now and all retailers must be ready to embrace change to improve their resilience.
Technology is key to achieving this, while offering an incredible experience for customers — whether visiting us in store, via our app or online.
Meanwhile, from a cultural perspective, businesses are also still in the experimentation phase of hybrid work, which can create challenges.
Again, technology and having a digital HQ that unites your team plays a vital role. At Holland & Barrett, we're focused on improving both the customer experience and the colleague experience through technology.
That focus on employee experience is so important — research from Future Forum found that workers with flexibility report 29% greater productivity than those who don't. Could you tell us about how you're using technology to improve flexibility in work?
Our tech team is truly global. We have to ensure collaboration is smooth across a number of countries.
Within that, we also need to drive flexibility because people work uniquely.
Some engineers like to work at the crack of dawn; others prefer late evenings. My goal is to empower them all to do their best work.
Having a digital HQ has been vital for this. Our days start in the digital HQ with virtual stand-ups with most teams adopting audio-only Huddles or video calls.
We also use the digital HQ to collaborate with our external partners. Meanwhile, by acting as a single digital space for collaboration and information sharing, it offers a clear record of everything that's happened.
Having that context means teams don't need to always be working live together. They can catch up asynchronously with messages, or video and audio clips.
"By giving everyone that autonomy, the business benefits from stronger results, more engaged teams and greater productivity. It's a win-win"

Sathya Nandakumar, chief technology officer at Holland & Barrett
Our goal is to use the digital HQ to give everyone the freedom to work in a style that works best for them. And by giving everyone that autonomy, the business benefits from stronger results, more engaged teams and greater productivity. It's a win-win.
Beyond the flexibility point, where are you seeing the digital HQ add a lot of value for your tech team?
Onboarding is a key use case. Getting new hires up to speed fast can be a challenge. To make it simpler, we are experimenting with using tools in the digital HQ to build a custom workflow in a few teams. The idea is for every new hire to receive useful resources automatically.
The other game-changer has been integrating other tools into our digital HQ. From PagerDuty to Atlassian, integrations help people reduce time spent switching apps because information automatically appears in the relevant collaboration channel.
Without integrations, incident response would be sluggish — we'd have to wait for a manual alert from somebody who noticed an issue. Then we'd have to try and get the details to the right person, and figure out how to fix it.
Instead, with integrations, that all happens automatically. On the rare occasions something fails, you can fix it fast and then move forward.
What has been the overall impact of embracing the digital HQ and what ambitions do you have for it in the future?
It's made life easier by transforming how we collaborate together. Our tech teams are not wasting time searching through inboxes — all the context they need is right there.
Looking ahead, we'll keep looking for opportunities to become more nimble and agile using technology. Every retailer is unique, but we all need to build environments that drive up flexibility, minimise low-value work and maximise people's ability to create impact.
Embracing change and choosing the best tools for the job will help every retailer make their transformation a success, wherever they are on the journey.

Slack is your Digital HQ – a place where work flows between your people, systems, partners and customers. Slack breaks down communication silos inside and beyond your organisation by bringing teams and tools together around common goals, projects and processes in channels and in Slack Connect. It removes the limits of physical walls, giving people the flexibility to do their best work where, when and how they prefer with huddles and clips. And it empowers everyone to automate common tasks with apps and workflows. In the digital-first era, Slack makes work simpler, more pleasant and more productive. To learn more about Slack, visit www.slack.com.