PAID FOR POST
More voices from the retail industry
It is integral today that retailers evolve to meet the demands of the conscious consumer. PayPal explores five key points that all businesses should keep in mind.
1. Conscious consumerism is on the rise
Some 56% of Europeans consider themselves to be conscious consumers and 67% have bought products that were better for the environment despite being more expensive, research by PayPal has found.
These consumers favour local and sustainable products that are environmentally friendly. They are also concerned with animal welfare and buying cruelty-free products, according to the European Commission.
Millennials are more socially conscious than any other group, according to IBM Research. However, every age group rates sustainability and environmental factors as being important in their buying decisions.
They expect businesses to meet their demands and, when they do, consumers show their brand loyalty accordingly.
2. The modern-day consumer seeks to consume mindfully
Conscious consumers avoid 'mindless consumption' and seek out greener products with longevity.
Post-pandemic, consumers are more aware of how and where they're spending their money and aim to reduce plastic waste.
They are aware of global issues like minimum wages in poorer countries as well as fast fashion and its impact on landfills. They favour businesses that follow green practices because they value sustainability.
3. Demand is surging for locally sourced products
Sustainability-minded consumers will check where the product ingredients come from and how they're processed before buying.
It's important to them that this information is available online and at every step in the purchase cycle.
Conscious consumers love brands with a good back story and businesses affiliated with social justice and causes.
Sustainability drives their buying decisions, so they prefer locally made, artisanal or sustainably made products over those that have a high carbon footprint.
4. Retailers who do the right thing are favoured
With 84% of consumers rating brand trust highly when choosing a product, according to IBM, it's important for conscious consumers to choose brands with values like their own and seek to build trust with businesses.
Brand-loyal consumers will still research the brand's products before opening their wallets. As a business, you need to ensure that you are reinforcing their trust and your credibility at every step.
5. Mindful consumption drives ethical offerings
If you want to appeal to conscious consumers, incorporate sustainability into your products and processes.
Be transparent in your dealings with consumers. Companies that ignore sustainability and the needs of conscious consumers risk getting caught out and losing both business and brand reputation.
In recent years, farm-to-table restaurants, local food delivery services and whole-animal cooking mean that food hasn't travelled long distances and very little is thrown away.
How to keep up with conscious consumers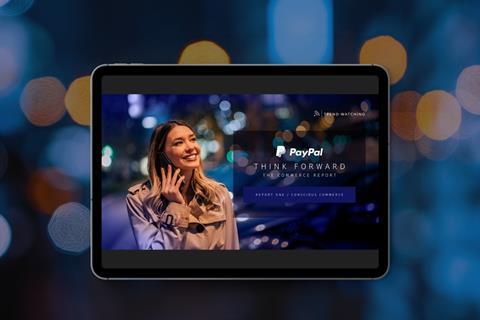 Today's businesses must evolve. There are many opportunities for ecommerce and traditional businesses to meet the demands of the conscious consumer.
From offering carbon footprint reduction fees and shortening your supply chain to adding more vegan-friendly and cruelty-free products to your business, you can attract conscious consumers.
How will ecommerce evolve in the next three to five years? Download our Think Forward: The Commerce Report to find out.

PayPal has remained at the forefront of digital payments for more than 20 years. By leveraging technology to make financial services and commerce more convenient, affordable and secure, the PayPal platform is empowering more than 400 million consumers and merchants in more than 200 markets to join and thrive in the global economy.