PAID FOR POST
More voices from the retail industry
Companies must embrace data-driven tech to avoid losing out to competitors, says Peter Feld, chief executive of GfK
My reasons for writing this are simple but pressing. The past 20 months have changed the way every one of us does business. My view is that there's no going back from that – and we shouldn't want to go back.
The behavioural changes and innovation explosion triggered by Covid restrictions has leapfrogged the business world five years into the future.
Disruption, acceleration, data overload and sustainability are on everyone's lips. Living in a pandemic has driven us all to find flexible ways to shop, work and entertain ourselves, as well as taking a deep new look at what is most important to each of us. Today, people are holding on to those new habits and values.
At the same time, they are demanding the return of certain aspects of the old models and channels. The challenges and opportunities from these varying influences fluctuate all the time.
Understanding the market
For business, this means the tempo of decision-making is the highest we've ever faced and it is not going to slow down. We need to understand developing market conditions the moment they arise and pivot our plans far more frequently to address changing conditions.
Take disruption: 'clicks and mortar' is now winning in the retail arena. Eighty-three per cent of people have changed their shopping behaviour and market conditions continue to be in flux (GfK Consumer Pulse, International, May 2020). Even where old behaviour seems to be reemerging, it's at differing levels than before and driven by different desires and triggers. Alongside this, external influences such as extreme weather events are increasingly changing people's focus on how we live and the decisions they make.
"The pandemic compressed evolving trends that would have taken years to develop into months"
As for acceleration: the consumer world was already moving swiftly, but the pandemic compressed evolving trends that would have taken years to develop into months. The number of retailers adding ecommerce to their business model lept 64% (GfK Market Intelligence: Weekly tracking, All European countries Weeks 01-31) in the first half of 2020 alone.
Yes, people flocked back to savour the in-store experience when shops first reopened, but the convenience and instant gratification of buy-now has embedded the habit of remote shopping.
Data overload
It doesn't take an analyst to see that continuing disruption added to the acceleration of change is resulting in data overload for businesses. Making core decisions based on anything other than solid data is high-risk in the extreme – but how do you handle and make sense of the huge amounts of data available from online platforms, search engines and apps? If you ignore key data sources, you could lose out to your competitors – but understanding them all at the pace required is a Herculean task.
In my view, success depends on embracing digitisation and data-based decision making – and I'm not alone. One of Forester's senior analysts, Richard Joyce, calculates that a 10% increase in data access will add $65m (£48m) to a typical Fortune 100 company income.
Decisive action
The businesses winning today have made bold changes, not minor adjustments, to respond at pace to current behaviour. I have been inspired by the decisive actions of Intime, a department store chain in China. When traffic to its physical stores fell and consumers moved online, Intime switched their in-store sales assistants into livestreamers on social media – showcasing products throughout the day that could be purchased via a simple click. By reacting fast and decisively to the new market conditions, Intime kept its staff in work and continued selling.
The time is ripe for bold decisions and high-tempo implementation. I believe the shapers of tomorrow are those that have the conviction to make radical changes based on early signals developing within their markets and consumer behaviour. The critical point is that the shape of these changes must be solidly rooted in trusted data and up-to-the-moment forecasts. We're never going back to normal, so be bold, be brave and create your own disruption to shape tomorrow's market.
Our State of Consumer Technology and Durables report delves into these trends, the opportunities that they open and what smart brands are doing now to thrive in the future.
Peter Feld is chief executive of GfK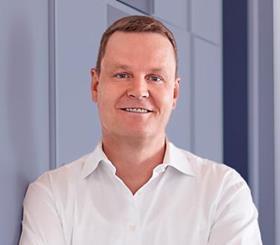 Since March 2017, Peter Feld has served as chief executive of GfK, a global leader in data and analytics, based in Nuremberg, Germany.
Prior to joining GfK, he was chief executive of the WMF Group, a leading premium cookware and professional automatic coffee-machine maker, from mid-2013 until December 2016. Peter draws on more than 20 years of experience in leading positions building brands in renowned global consumer goods companies.

For over 85 years, we have earned the trust of our clients around the world by solving critical business questions in their decision-making process around consumers, markets, brands and media. Our reliable data and insights, together with advanced AI capabilities, have revolutionised access to real-time actionable recommendations that drive marketing, sales and organizational effectiveness of our clients and partners. That's how we promise and deliver "Growth from Knowledge".
View full Profile