Uncovering the winning strategies behind retail's best and brightest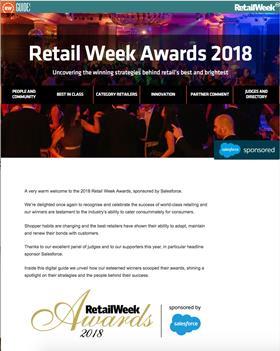 The Retail Week Awards 2018, in association with Salesforce, celebrates the industry's top leaders, innovators and change-makers.
Inside this guide we:
Unveil how the esteemed winners scooped their awards, shining a spotlight on their strategies and the people behind their success
Provide an in-depth breakdown of each winner, from those best in class to the those excelling in their community.
Access the Retail Week Awards 2018.


Salesforce, the Customer Success Platform and world's number-one CRM company, empowers companies to connect with their customers in a whole new way. For more information about Salesforce (NYSE: CRM), visit salesforce.com or engage with us on social media.