Meet the 100 top global tech leaders powering retail innovation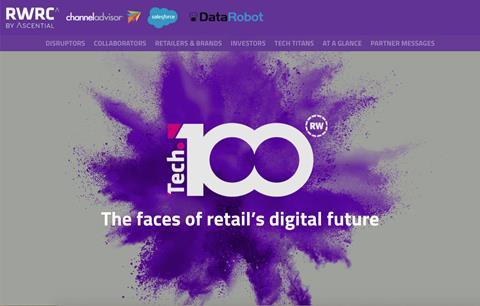 As retailers battle to deliver an online Christmas and optimise their digital strategies, there has never been a more pressing time to discover the people changing the way the industry thinks, operates and sells.
Which tech leaders are influencing digital commerce and powering game-changing retail innovation? Who are the individuals retailers we need to know about as they look to accelerate their online offerings?
All is revealed in RWRC's Tech 100 2020, the annual index of the most innovative global technology leaders influencing retail today.
From the brains behind emerging brands giving established retailers a run for their money, to the investors fuelling this new era and the collaborators partnering for success, this year's Tech 100 showcases the changing face of the industry.
Download the free digital Tech 100 report today to find out:
The 25 women tech leaders driving retail's digital future
The new wave of start-ups and disruptors shaking up the industry
The tech titans that blazed a trail for them to follow