Preparing for a new era of retail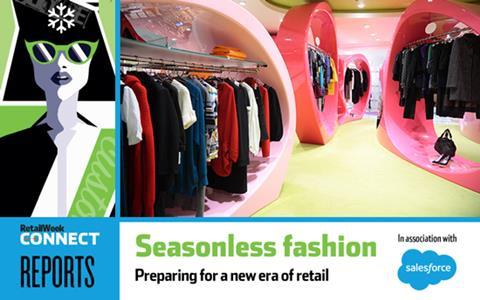 Seasonless fashion has moved up the agenda over the last 12 months or so, following Burberry's announcement in February 2016 that in September it would stop producing clothes for specific seasons.
Weather is becoming more erratic and retailers are expanding their core, seasonless ranges in response. At the same time, customers are moving away from season-led shopping to a 'see now, buy now' approach.
In addition, the global nature of many businesses means European-led seasons are no longer practical.
This Retail Week report, published in association with Salesforce, analyses all these factors and discovers how they are impacting retailers.
Find out what the fashion industry really thinks about trans-seasonal buying and use the insight to connect better with your customers.
This is your chance to hear from 50 leading fashion retailers and the UK's most well-known fashion bosses.

Salesforce, the Customer Success Platform and world's number-one CRM company, empowers companies to connect with their customers in a whole new way. For more information about Salesforce (NYSE: CRM), visit salesforce.com or engage with us on social media.