Japanese etail giant Rakuten has launched its UK site today, which will next year enable merchants to sell across its global marketplaces.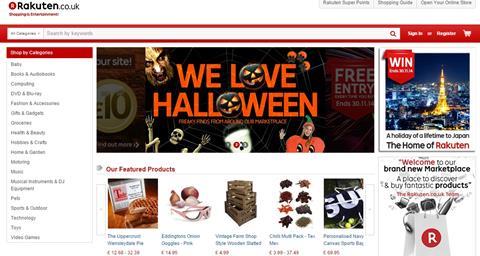 The new site heralds the demise of Rakuten-owned Play.com, which will shut down next year.
Rakuten.co.uk will initially just sell products from UK merchants but will broaden it to international sellers in the future.
Rakuten.co.uk chief executive Mike Bishop said the site also gives merchants the tools to personalise and brand their shops on the marketplace.
"It's not about letting customers find the product and having 10 merchants competing on price. We want to create a connection to the merchant. Fundamentally, it's a lot more favourable to merchants allowing them to create a bespoke store," said Bishop.
Wide range of categories
Bishop said that there was a move away from Play.com's entertainment roots to create a wider mix of categories.
Rakuten.co.uk spans a broad range of categories including food and drink – its biggest category in Japan – health and beauty, clothing and pet care.
He said new functionality with adding images and videos will help drive other categories such as clothing.
Customers will also be able to access digital services offered by Rakuten businesses including ebook service Kobo and TV streaming site Wuaki through a single account from December.
The move comes as Rakuten seeks to accelerate the global expansion of its internet services ecosystem.
Rakuten Europe chief executive Kenji Hirose said: "What consumers want from retailers is continually changing, however, the desire for a personal and entertaining experience remains constant."
"With the launch of Rakuten.co.uk we are making it easier for shoppers to discover what they want and empowering merchants to provide it. Over the next 12 months we will pioneer a new era of borderless retail and entertainment by integrating our ecommerce offering with our global ecosystem of internet services, to make shopping more fun."
Rakuten is also relying on its loyalty scheme Rakuten Super Points, a major sales driver in Japan, to woo customers. Customers receive a minimum of one Super Point for every £1 they spend on the site.
Bishop said: "The launch of Rakuten.co.uk will empower retailers to truly take advantage of the internet and everything that is has to offer, to drive sales and reach new shoppers."