House of Fraser should focus on ensuring that its customer experience is outstanding, before rushing to invest in a challenger bank.
Christmas trading figures from all the major department stores have followed a similar pattern and House of Fraser was not an exception: including the Black Friday fortnight, like-for-like sales rose by 2.7%, attributed by the company to an increase in online sales.
Like many other CEOs, Nigel Oddy has talked about challenging conditions and the need to adapt the business model in the face of the continued move online.
Given the recent news that Oddy will now be stepping down from his position – where should the new leadership focus to drive a better commercial outcome?
House of Fraser has a bigger incentive than many others, as it is by far the least attractive to customers in the market of the large players.
Good Growth data suggests House of Fraser attracts less than c.50% of the online traffic that goes to John Lewis and c.60% of that going to direct rivals Debenhams.
Unlike others, however, the solution is not only to focus on the customer and meeting their needs in product and channel, but also to diversify the offer into a sector where online customer enrolment is far more challenging than high-street retailing, and where willingness to adopt new products and services is far less evident.
Challenger bank
Intriguingly, they are not just investing in financial services, but into a challenger bank with a brand aimed at a demographic that is very different from those associated with the traditional department store.
Creating integrated products and services which appeal to the 'app generation', who are digitally confident and willing to have their personal data shared across multiple platforms, may prove to have been an inspired decision.
It could reconnect a heritage retail brand with a whole new generation of retail customers and enable the business to leapfrog over the obvious direct rivals, such as Next and Debenhams.
There are, however, many significant challenges, not least the financial services offers currently available from brands such as Tesco, Sainsbury's and Marks & Spencer.
Add to this money-laundering regulations, the need for identity certainty over speed of response, and the innate conservatism of UK consumers to adopt new banking channels, and it looks like the vision faces some stiff headwinds.
There's no doubt that survival requires innovation, and innovation carries risk.
However, are financial products from a brand unlikely to appeal to the mainstream high-street shopper really the way out of a bigger problem faced, not just by House of Fraser but also Debenhams?
Get the core right
In today's retail environment, many people are asking what are they here for. If they don't get the core right, no amount of innovation can save a great brand from joining the likes of HMV and BHS.
The classic department store has no right to exist forever as a retail proposition, and no proposition can stay successful without the capability to evolve to meet changing customer needs.
The bigger question is has House of Fraser stayed the same for too long and is the change required to thrive in the 21st century just too big a leap?
Just take a look at their stores and their ecommerce execution – they both have the same impact: unclear proposition; slightly shabby around the edges; and a tone that suggests a desperation to get you to buy.
So, while we should welcome the innovation and lateral thinking, to get value from it, the new leadership needs to re-establish a core brand proposition on and offline.
If it's not popular with customers, it's not popular
While it's not clear there is anything of value below the fold of the home page, if you do travel down customers are presented with this: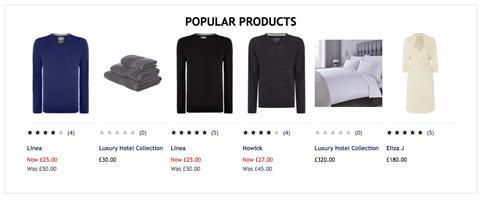 Putting products forward in prime retail space is an important part of effective etail.
The intention is to encourage purchase by providing reassurance that other customers are buying these products and that they are meeting their expectations.
Promoting products that do not have any customer endorsements at all, however, completely undercuts the impact of this approach.
In fact, this suggests that House of Fraser has few really popular products.
Compare this to John Lewis's execution below:

Every product is highly recommended by other customers – giving real reassurance, and that confidence is reinforced further by their price promise and the electrical guarantee.
If you are looking for towels in the January Sales, then one offer just seems a better bet.
Getting these things right doesn't cost a lot of money. Building real customer insight is challenging but not expensive.
There is no doubt that House of Fraser is less likely to attract interest from online shoppers today, but before they rush out and spend lots of money buying more interest, they should focus on ensuring that the customer experience is outstanding.
After all, if the Tandem link-up starts to engage a younger, more digitally savvy generation, an unchanged ecommerce execution will ensure that they quickly lose interest.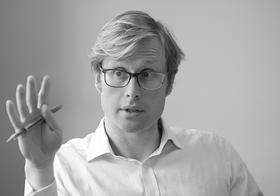 James Hammersley is the co-author of Leading Digital Strategy. He is a founding partner of Good Growth, and has worked with O2, The Economist, Game, Ann Summers, The Guardian, Barclays, Bupa and Manchester United FC. For more information, visit goodgrowth.co.uk